Eight delightful and exquisitely designed restaurants offer distinct flavours from across the globe. Indulge in Michelin-starred menus designed by the world's most innovative chefs, which can be paired with a selection of 300 premium wines, from the comfort of Ikos Aria's serene grounds. Or explore the beguiling and unique tastes of Kos Island with our unique Dine-Out programme – all at no extra cost.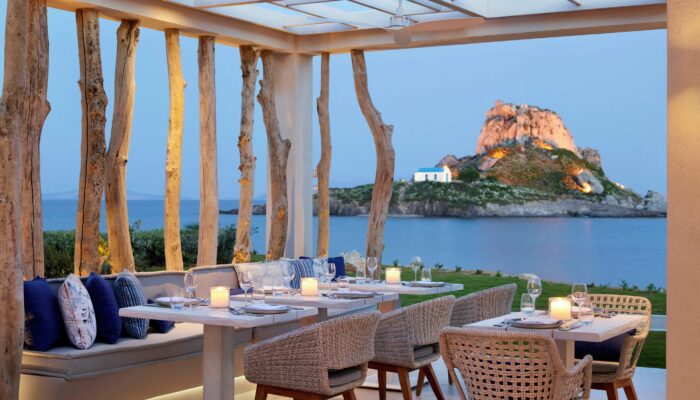 Greek
Enjoy rich Greek cuisine with a delightfully modern twist in a romantic open-air setting. Combining Greek tradition with innovative techniques and modern tastes, Ouzo's menu was created by Michelin-starred chef Lefteris Lazarou.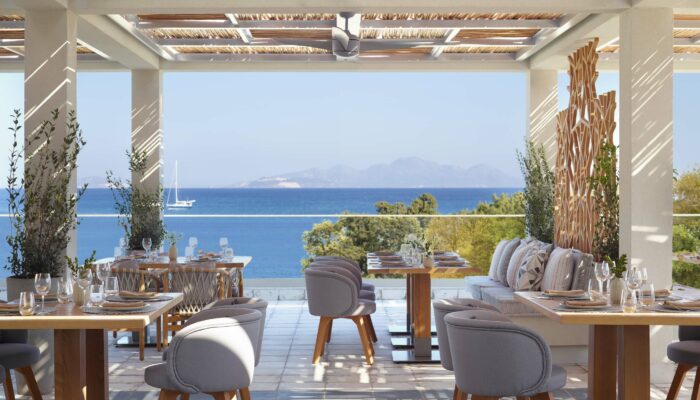 Greek
Savour the rich culture and culinary traditions of Kos as you sample the island's rich gastronomy. From Greek classics to unique Kos discoveries and contemporary twists on seasoned favourites, disover delicious dishes steeped in history.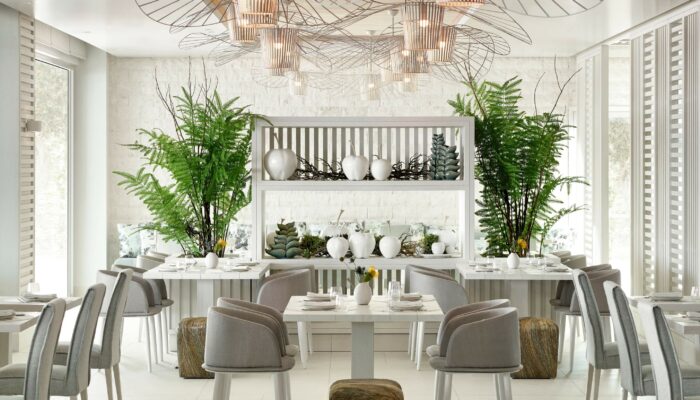 Italian
Enjoy the distinctive flavours and fresh ingredients of Italy, guided by the genius of Michelin-starred chef Ettore Botrini. Á la carte dining at Fresco offers the chance to savour authentic Italian flavours perfectly paired with the finest wines.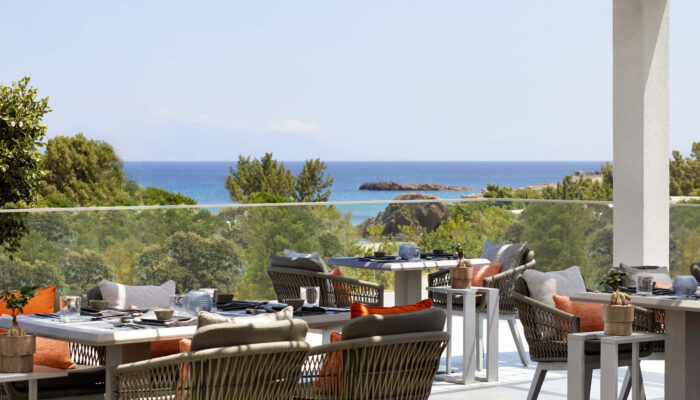 Asian
An à la carte dinner served in elegant surroundings or on the Anaya balcony, this refined menu was created by Michelin-star chef Thiou. Savouring the tastes of aromatic Asia from Thailand to China and India.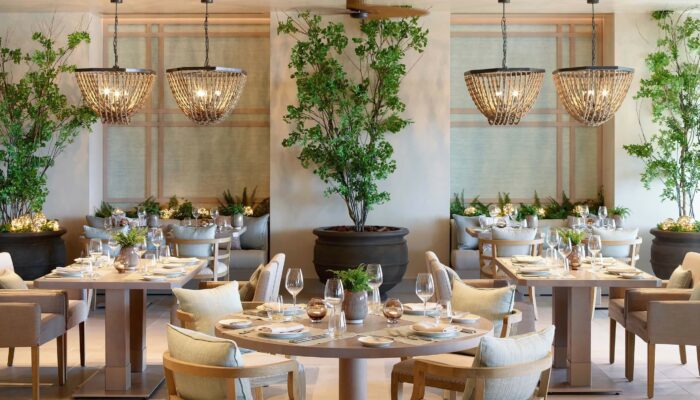 French
A night of French romance with a unique atmosphere awaits in this beautiful à la carte restaurant. Discover a blend of Provencal traditions and global influences in an exquisite menu, perfectly matched with a selection of wines.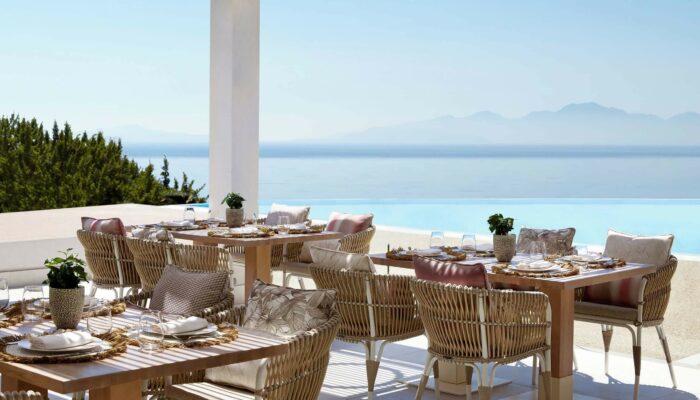 Asian-Mediterranean
An à la carte dining experience in a stunning sea view setting, enjoy the finest Mediterranean dishes infused with fresh Asian flavours. Our expert chefs unify seasonal ingredients with far-flung influences in an elegant al fresco restaurant.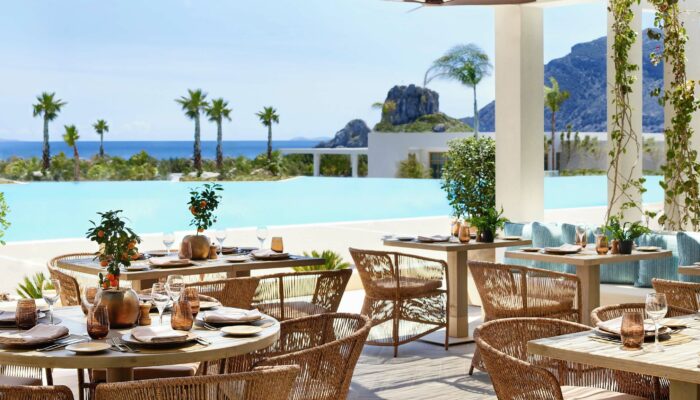 Spanish
Savouring the rich flavours of southern Spain, Michelin-star chef David Ibarboure's à la carte restaurant serves up a wide array of exquisite dishes inspired by Andalusia's sun-kissed traditions and modern Spanish gastronomy.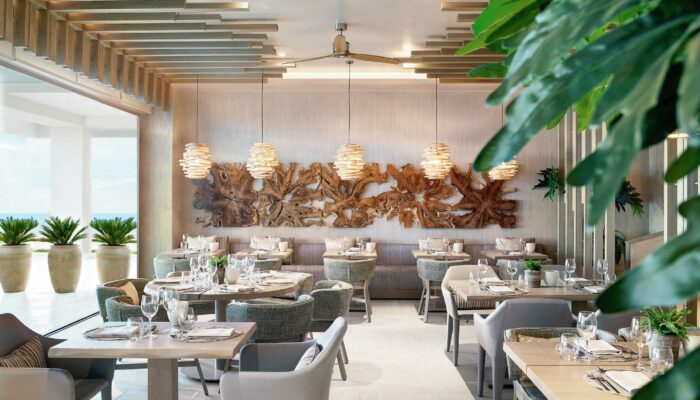 Mediterranean buffet
An exquisite Mediterranean buffet-style restaurant overlooking the Aegean, Flavors boasts a different menu every day of the week. Indulge in a delectable array of evolving dishes with a perfectly paired glass of wine from our extensive list.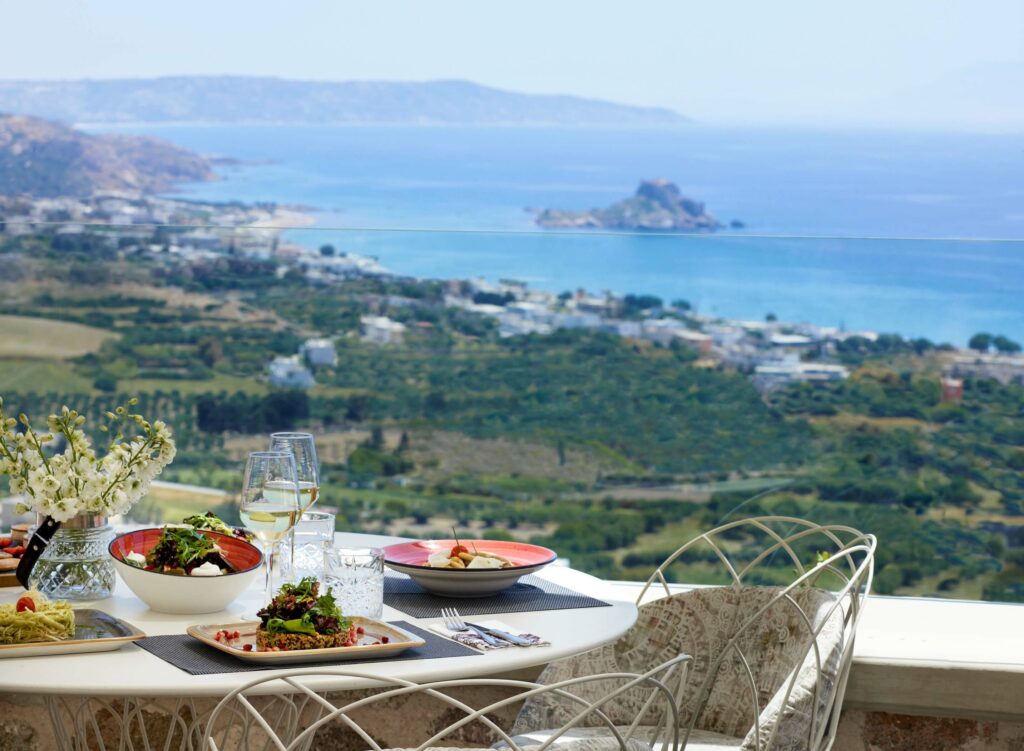 Boasting a rich gastronomic tradition inspired by influences from across the Mediterranean, Kos bursts with locally sourced seasonal vegetables, exquisite fresh seafood and enticing local delicacies.
From traditional tavernas to romantic hilltop eateries, step out of the resort and experience what Kos really has to offer with Ikos Aria's Dine Out programme- all included at no extra cost.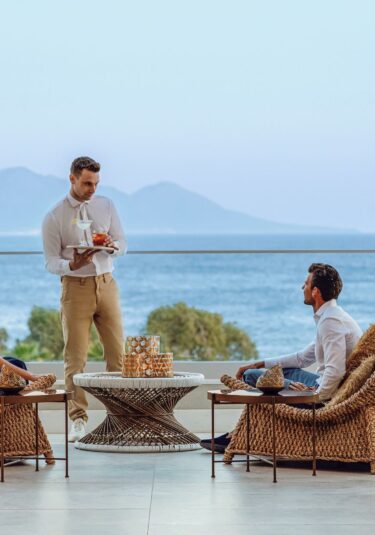 Open: 09:00-01:00
Lobby Bar
Relax with a steaming cup of freshly brewed coffee, sip on a fine wine or indulge in a signature cocktail in the sophisticated environs of the Lobby Bar. The perfect place to take a moment for yourself or converse with like-minded travellers at any time of day.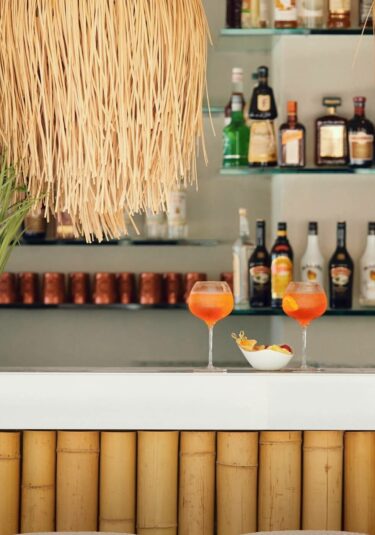 Open: 18:00-24:00
Lagoon Lobby Bar
Enjoy stunning views of the sun setting over the sparkling Aegean Sea , while sipping on expertly-crafted cocktails, premium beers and a curated selection of local and international wine labels.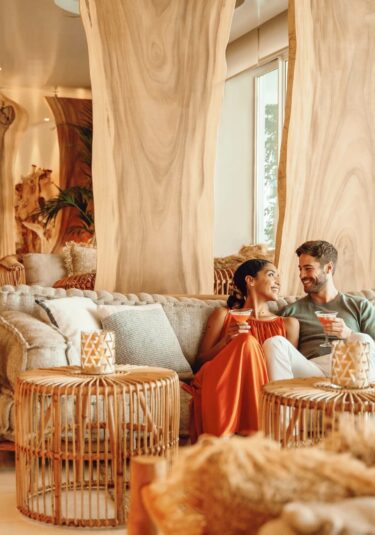 Open:09:00-24:00
Deluxe Lobby Bar
Deluxe Lobby bar is an exclusive offering for guests staying in our Deluxe Collection accommodation. Enjoy premium wines, signature cocktails and a long list of delicious beers in a sophisticated and elegant atmosphere.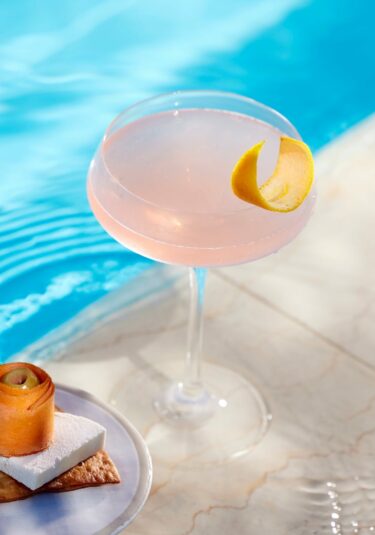 Open: 09:30-18:00
Main Pool Bar
Spend dreamy summer days soaking up the sun on ultra-comfortable sunbeds and plunging into pristine, sparkling pools. And for when you need a refreshing beverage or tasty poolside snack, our Main Pool Bar is open all day to cater to your every need.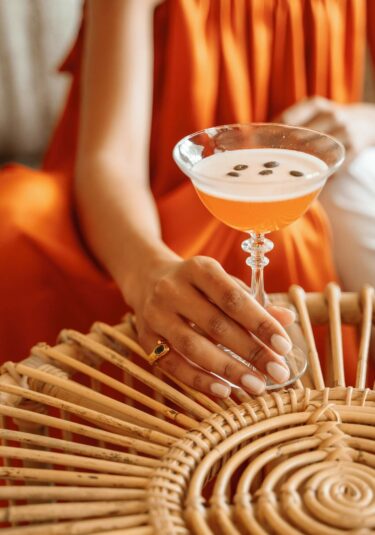 Open: 23:30-02:00
Night Club
For a final night-cap after an endlessly exciting day at Ikos Aria, head to the ultra-modern, vibrant Night Club. From fruity cocktails to delicious spirits, you're sure to find your match.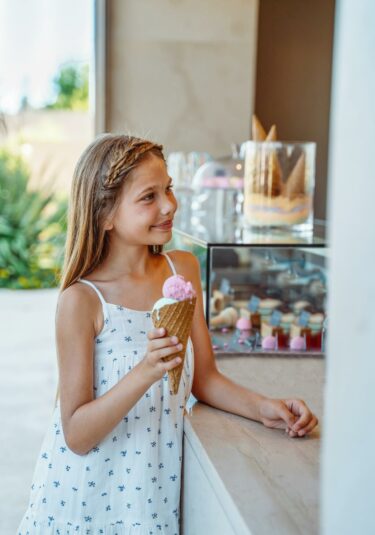 Open:10:30-18:30
Gelaterie
Treat the whole family to a deliciously refreshing ice cream in the coolest surroundings at Gelaterie, at no extra cost. Creamy goodness and spectacular views await for you.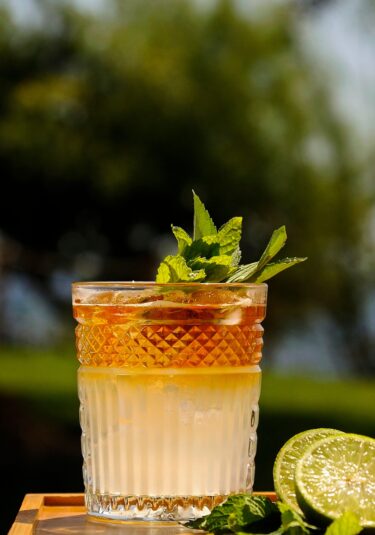 Open: 09:30-18:00
Beach Pool Bar
Enjoy a refreshing drink or light snack at the Beach Pool Bar. Soak up the sun or shelter in the shade as you watch the waves lap the sugary sands.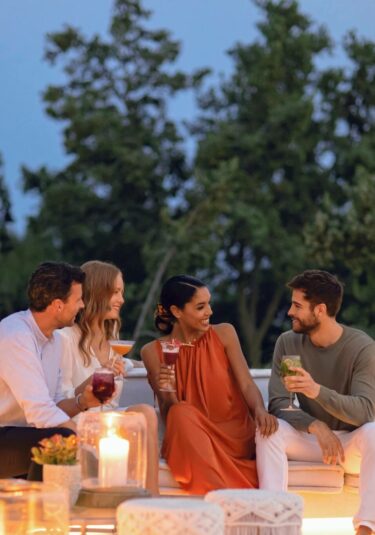 Open: 09:30-18:00
Deluxe Pool Bar
Exclusively for guests staying in our Deluxe Collection Suites, the Deluxe Pool Bar offers magnificent views, premium drinks, and a tasty snacks in a stylish al fresco environment.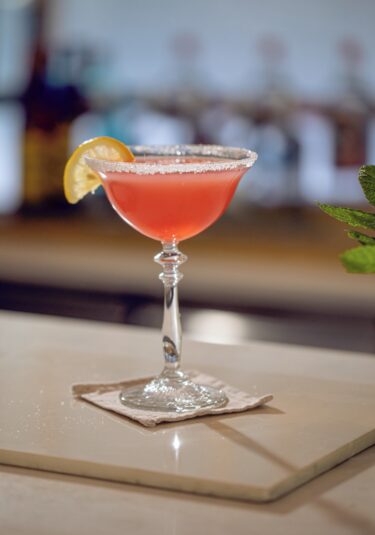 Open: 20:00-23:00
Teatro Bar
Enjoy an evening of laughter and entertainment at Teatro Bar, a vibrant spot where you can enjoy signature cocktails, fine wines and premium night clubs in stylish and classic surroundings.