Immense national parks, endless stretches of sun-kissed sands, and a scattering of quaint whitewashed villages await on the glamorous Costa del Sol.
Sophistication and Spanish style
Stroll palm-dotted gardens that dip down to the water and discover the warmth of the Mediterranean lapping against the Spanish sands. Tucked between mountains and sea, Ikos Andalusia invites you into a world of style, where everything is included, and the choice is always yours. Savour refined cuisine at two new restaurants opening, while Deluxe Collection guests can enjoy the exclusive new Deluxe Pool and its bar and our youngest guests the enhanced Kids Club.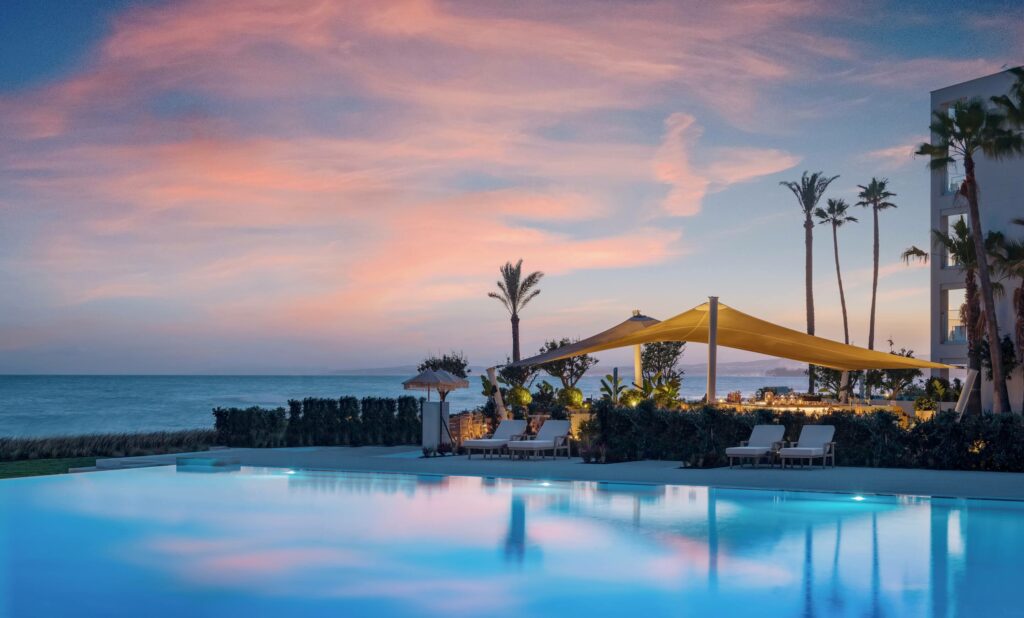 COCKTAIL BAR, IKOS ANDALUSIA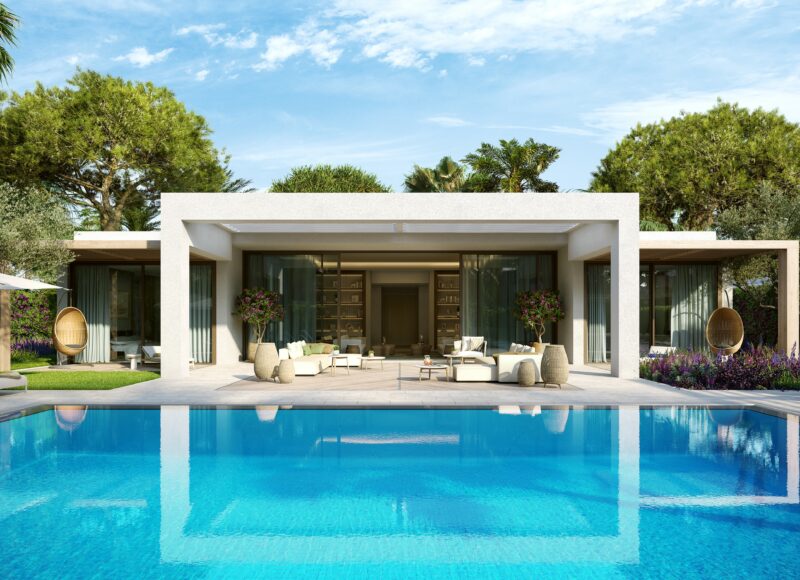 In 2023, Ikos Andalusia welcomed several glamorous new elements as part of an ambitious extension, including the new Deluxe Pool, new Heroes Village and two spectacular new restaurants. The next stage will unveil a curated selection of elegant Deluxe accommodation options, including the largest and most spacious Villas across the entire Ikos portfolio. The state-of-the-art Four Bedroom Villas – a first at Ikos Andalusia – will be the jewel in the crown of these upgrades. Offering complete privacy and seclusion, each elegant villa comes with a private pool, a garden with barbecue area and an indoor gym, providing space to sleep a family of nine in comfort and style. The expanded Deluxe Collection will also offer Three Bedroom Suites with private pools and glamorous Two Bedroom Penthouse Suites, offering an enhanced world of Costa del Sol charm.
Discover your perfect room
at Ikos Andalusia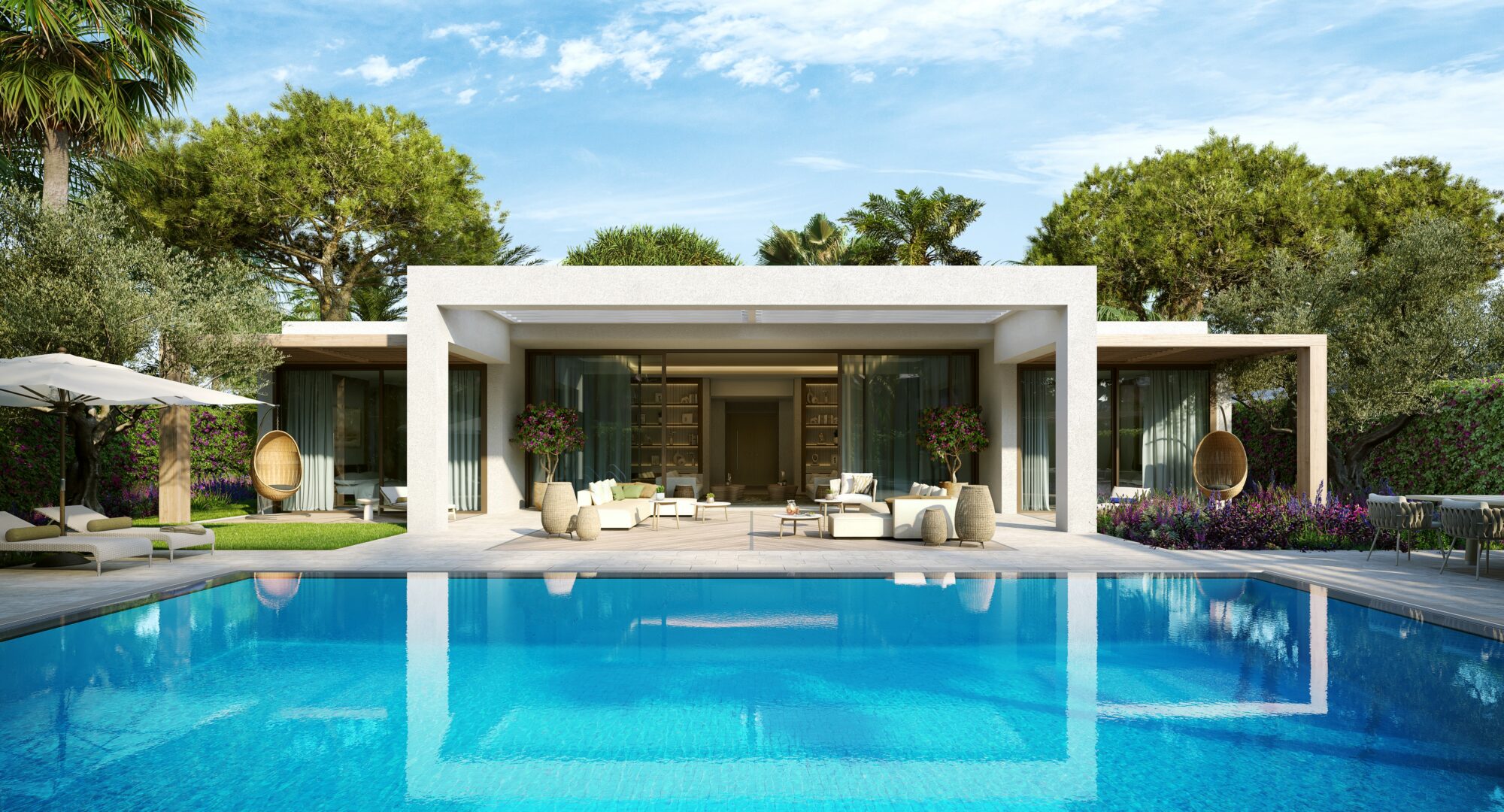 Deluxe Four Bedroom Villa Private Pool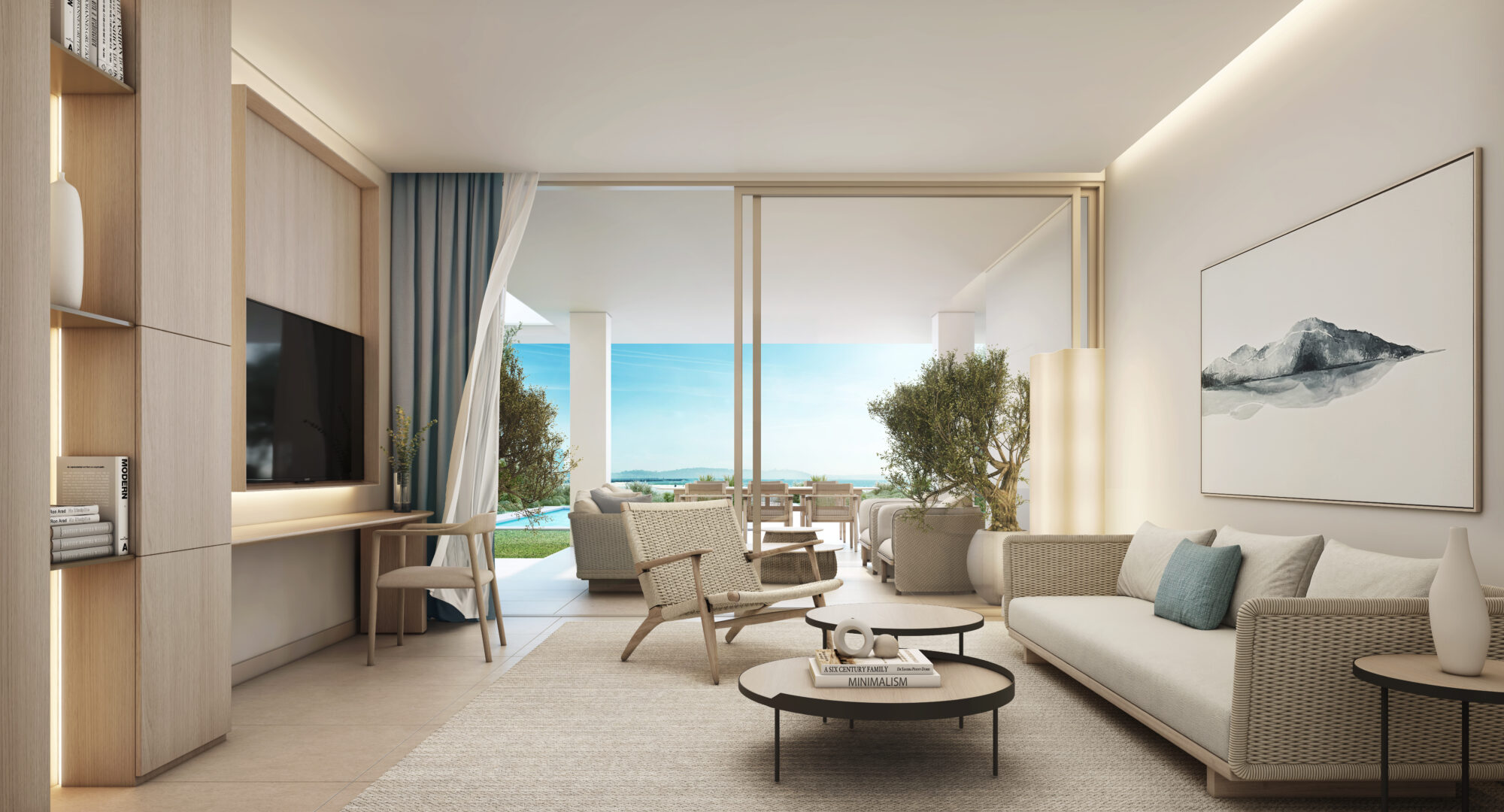 Deluxe Three Bedroom Suite Private Pool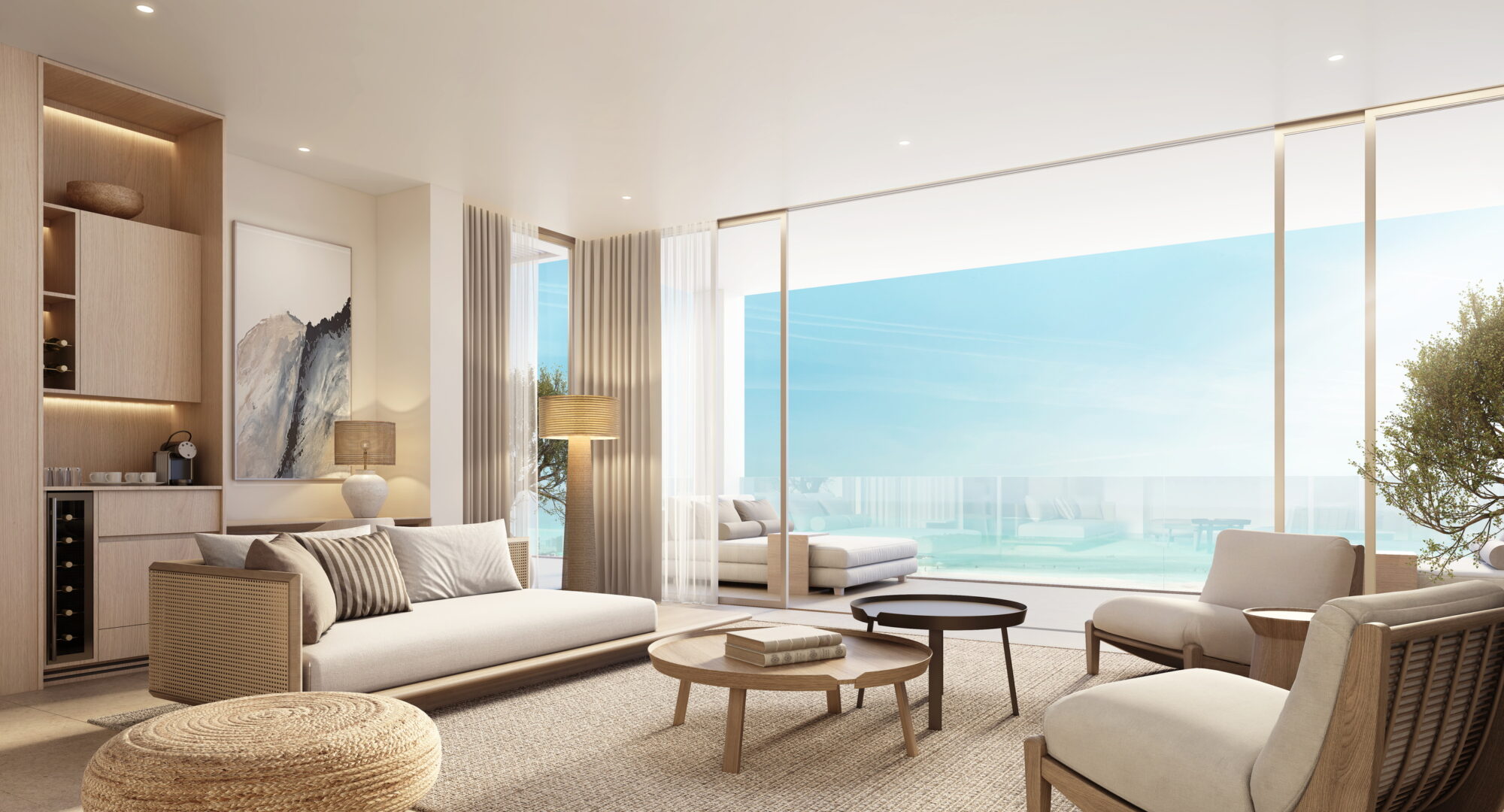 Deluxe Two Bedroom Penthouse Suite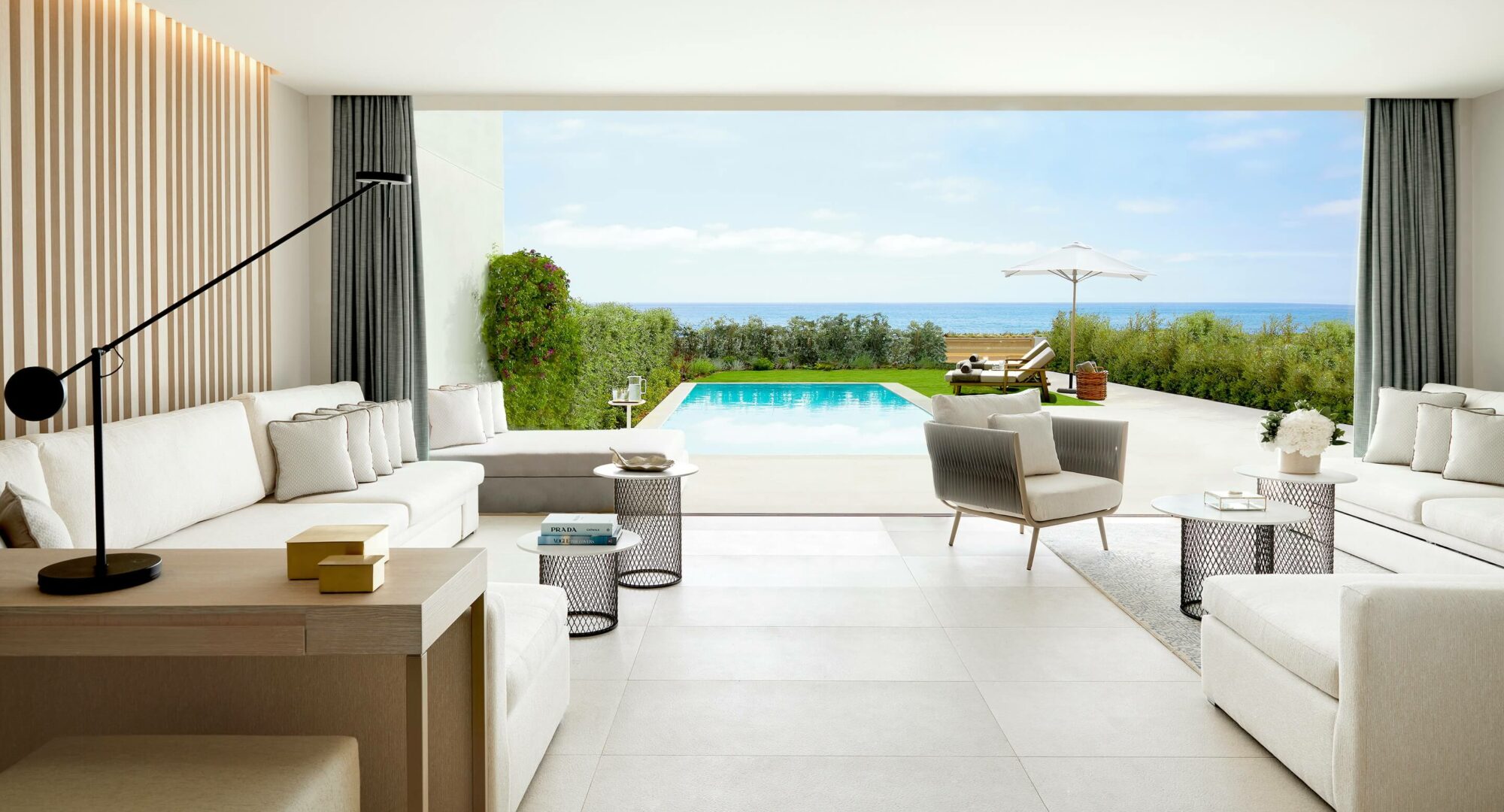 Deluxe Two Bedroom Suite Private Pool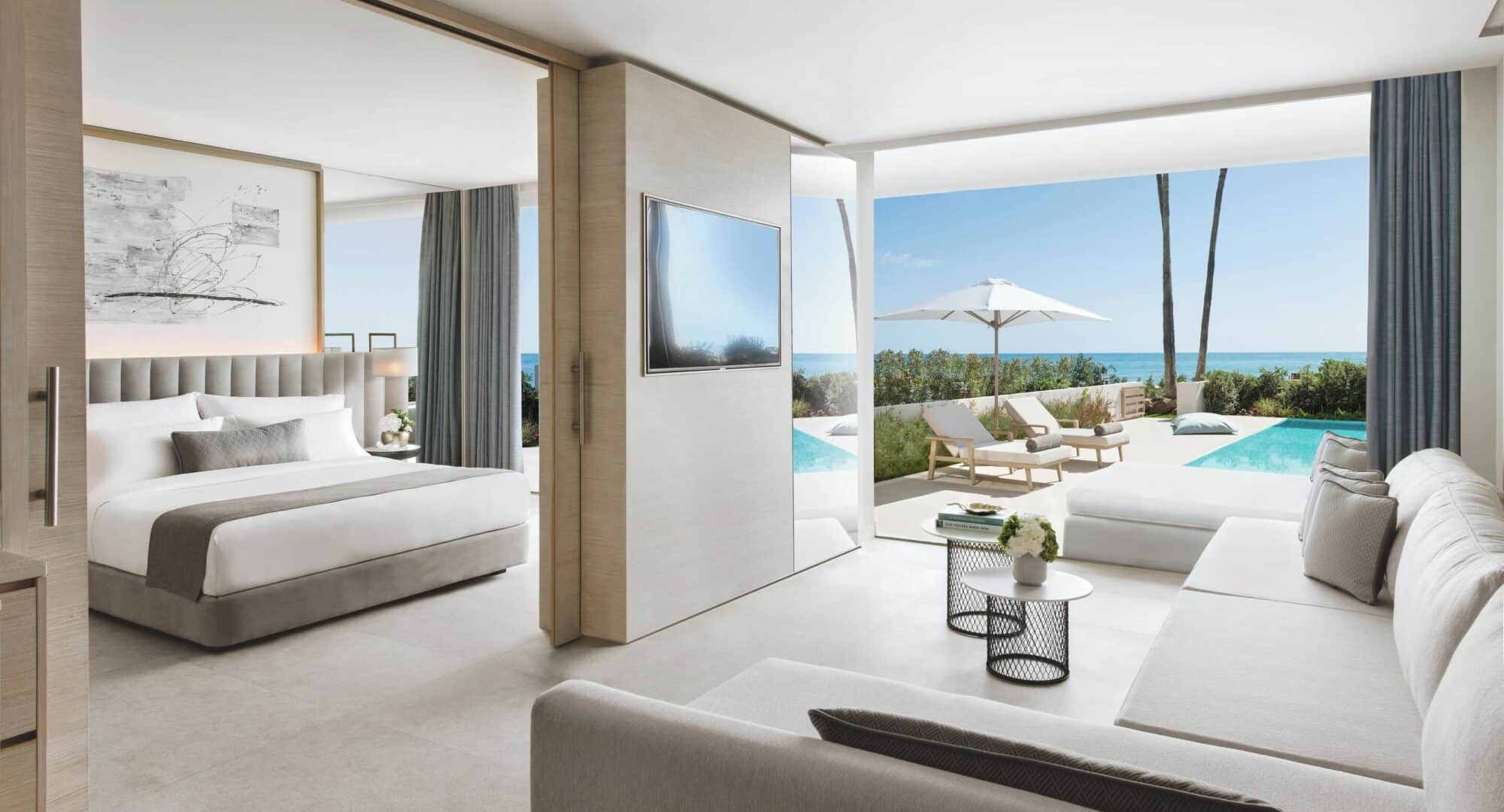 Deluxe One Bedroom Suite Private Pool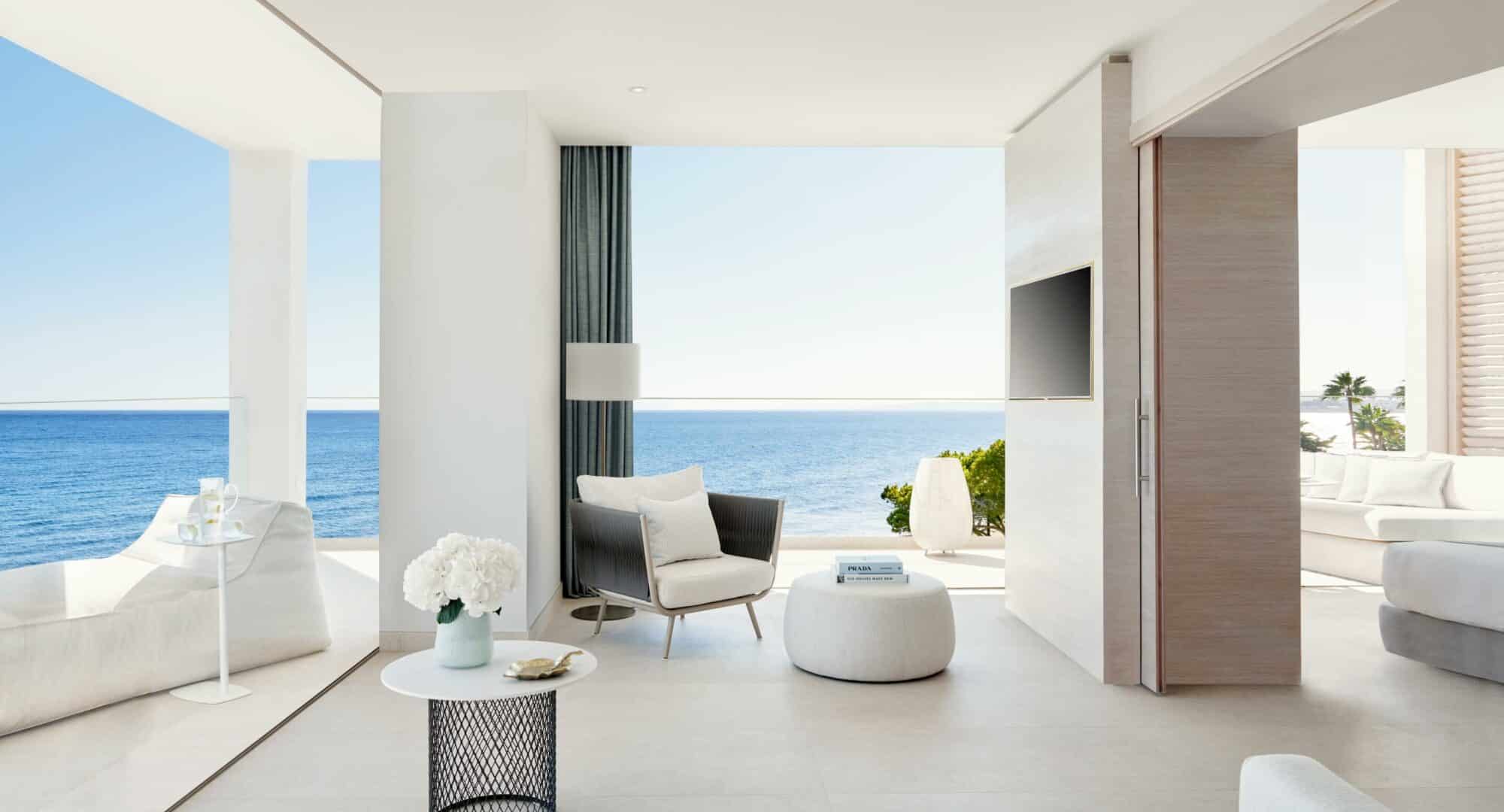 Deluxe One Bedroom Suite Sea Front View
Savour the fabulous flavours of menus created by Michelin-starred chefs at Ikos Andalusia's nine restaurants, offering unique Mediterranean delicacies, Asian flavours, French and Italian cuisine and Spanish and Greek gastronomic delights. Sip handcrafted cocktails by the pool or try one of our 300 premium wines, all as part of your stay. Away from the resort grounds, experience authentic Andalusian cuisine at local restaurants as part of our complimentary Dine Out programme.
dine
in

style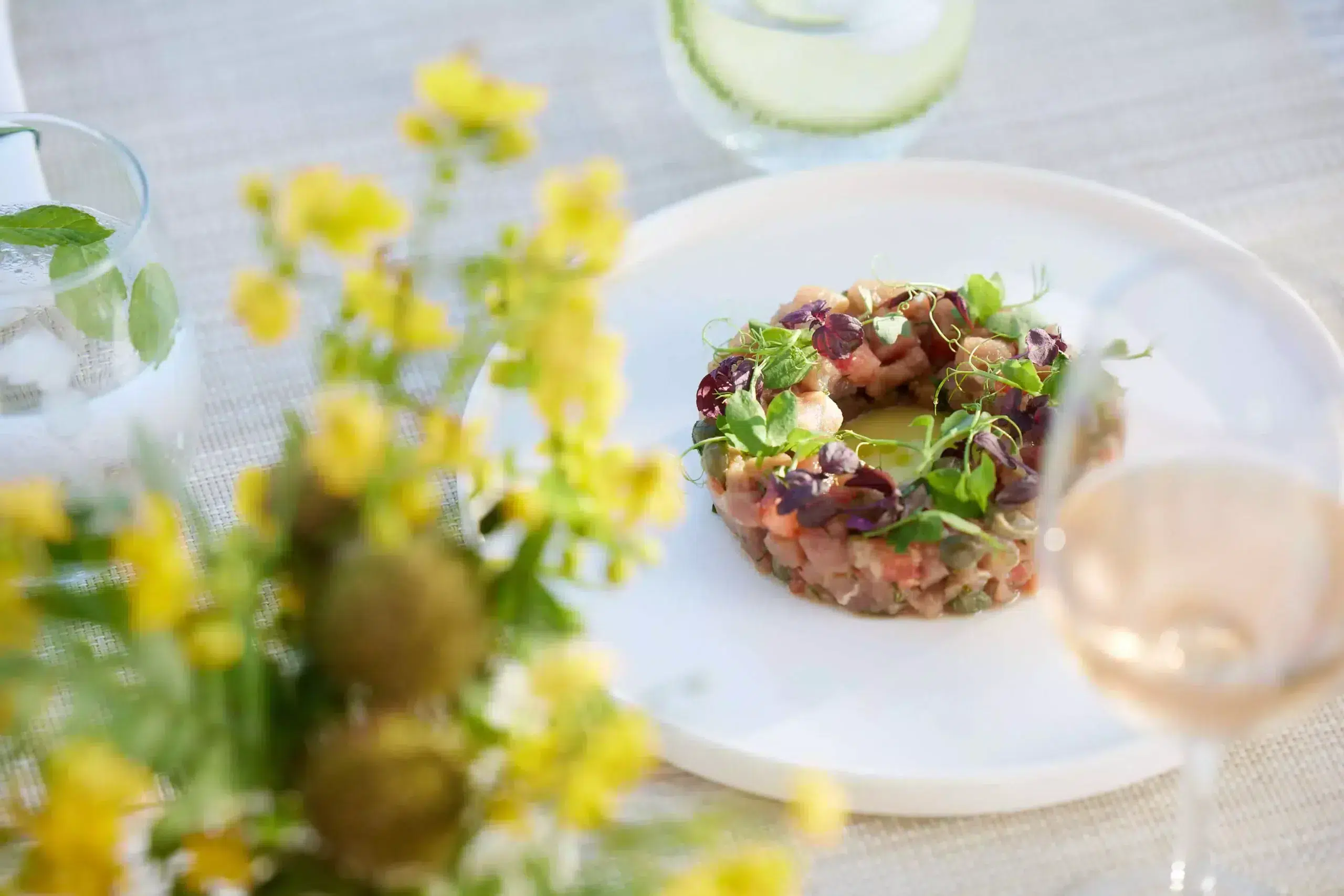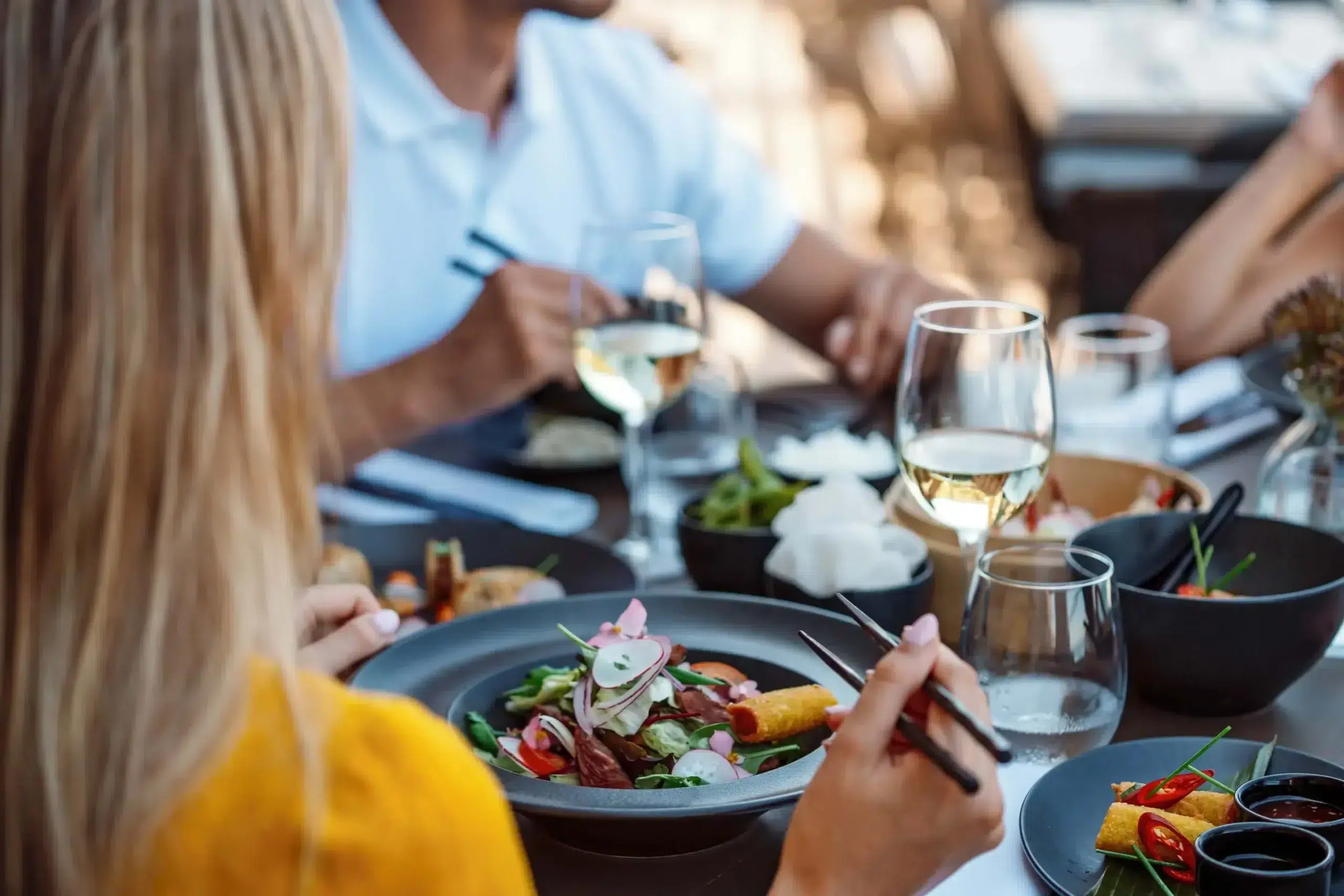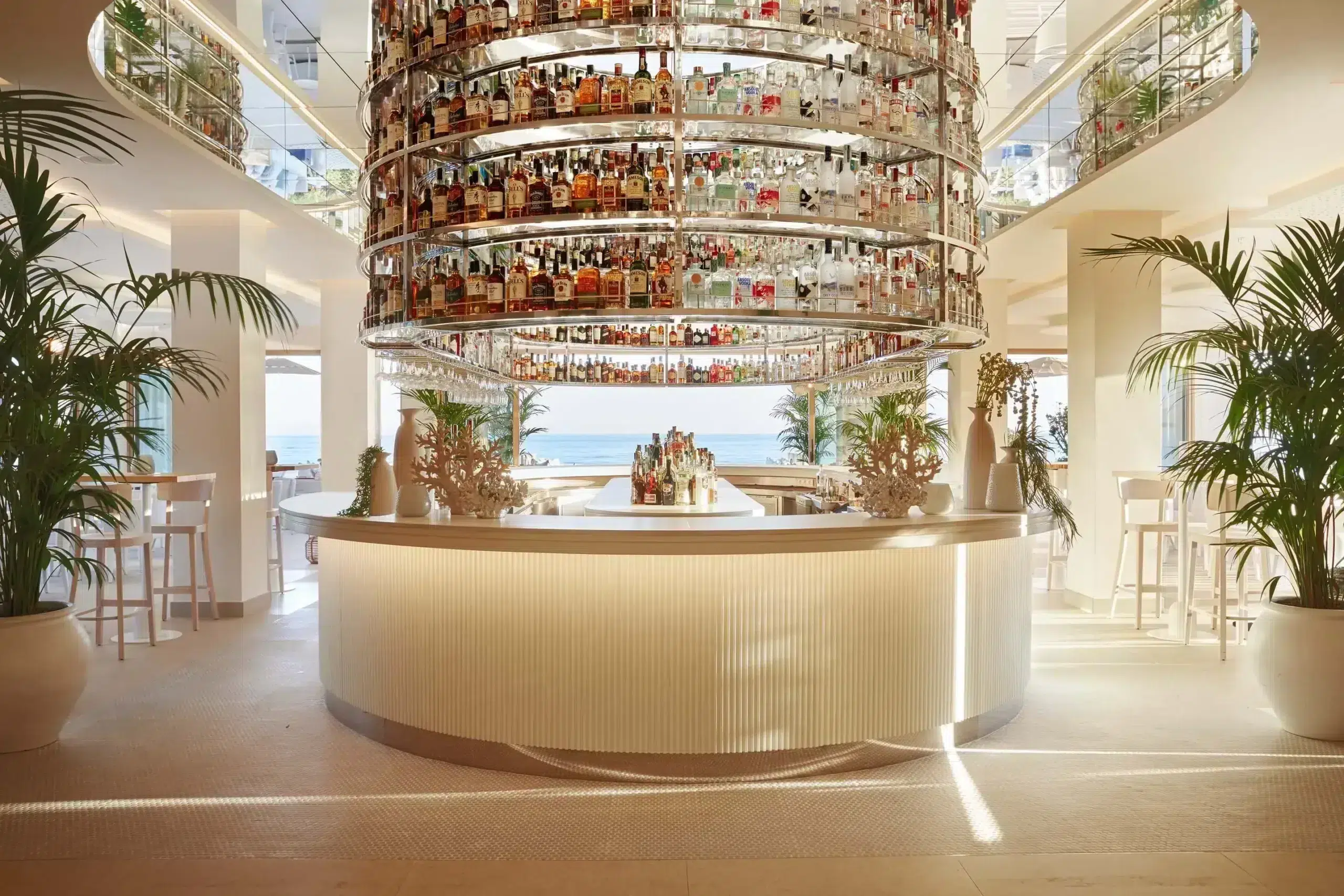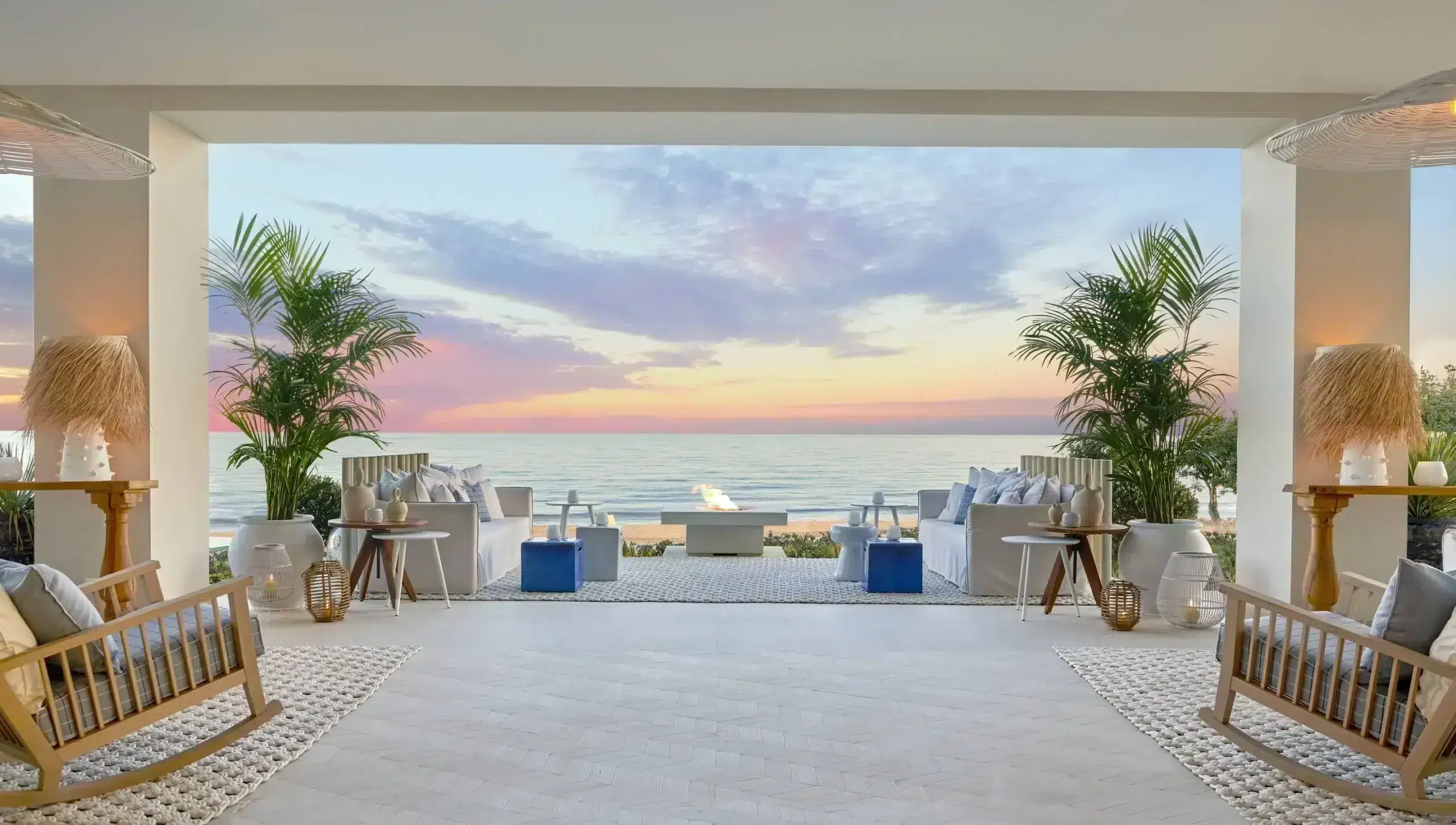 Discover blissful afternoons enjoying the cyan water and sands on our exclusively serviced beach, soaking up the warm Spanish sun in 21 acres of verdant landscaped gardens, or cooling off in one of the nine indoor & outdoor swimming pools, scattered around the lush grounds.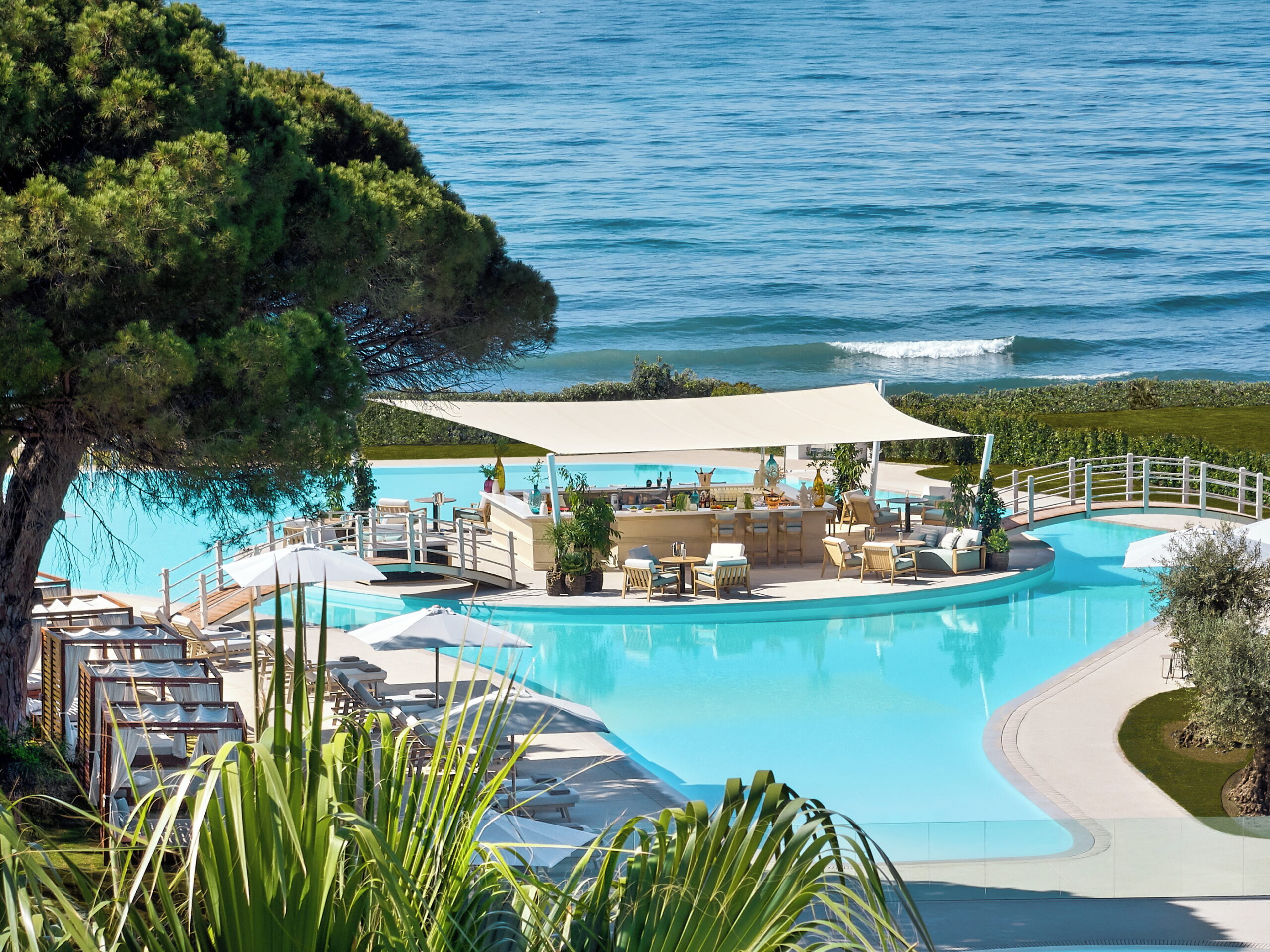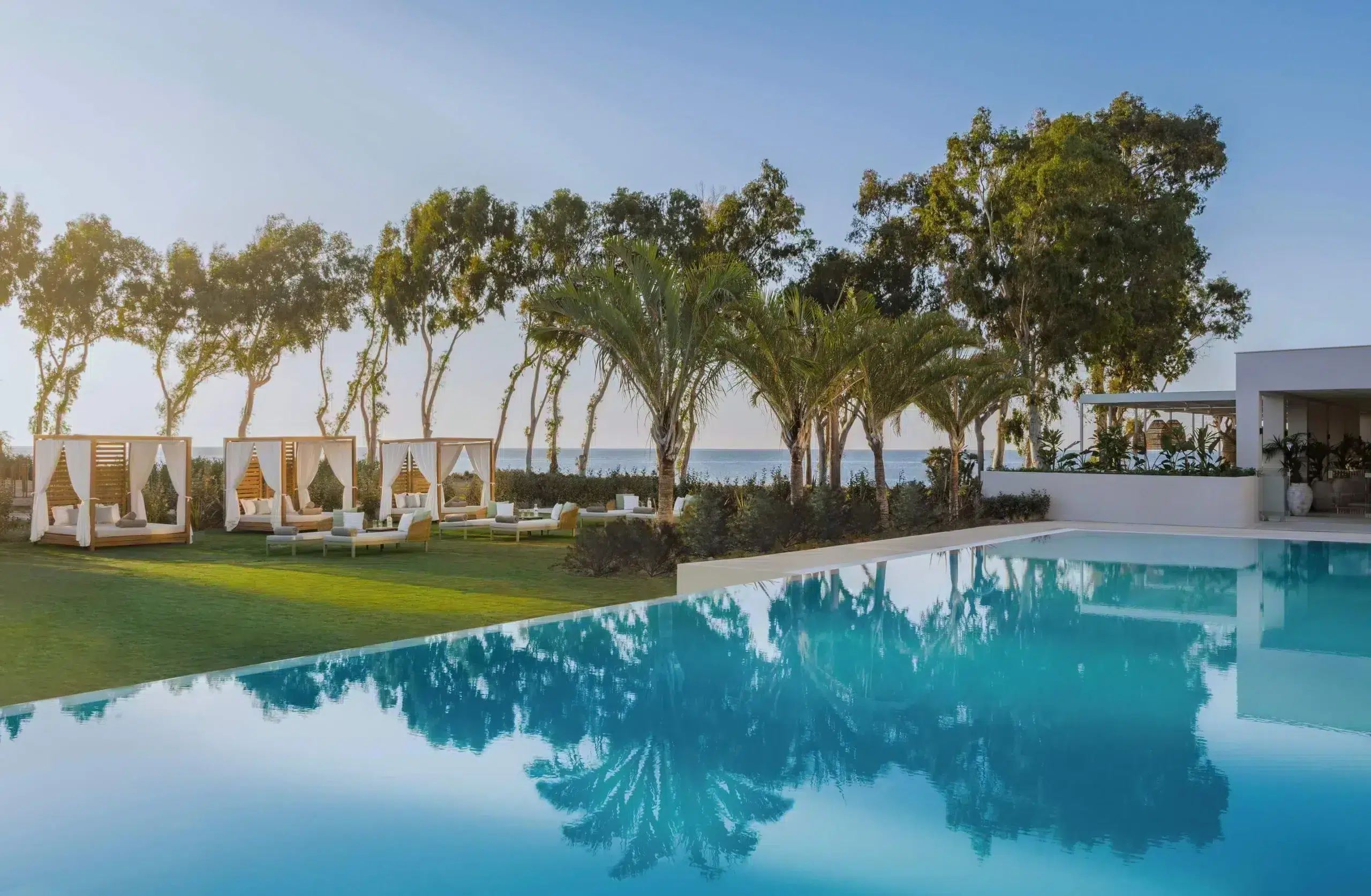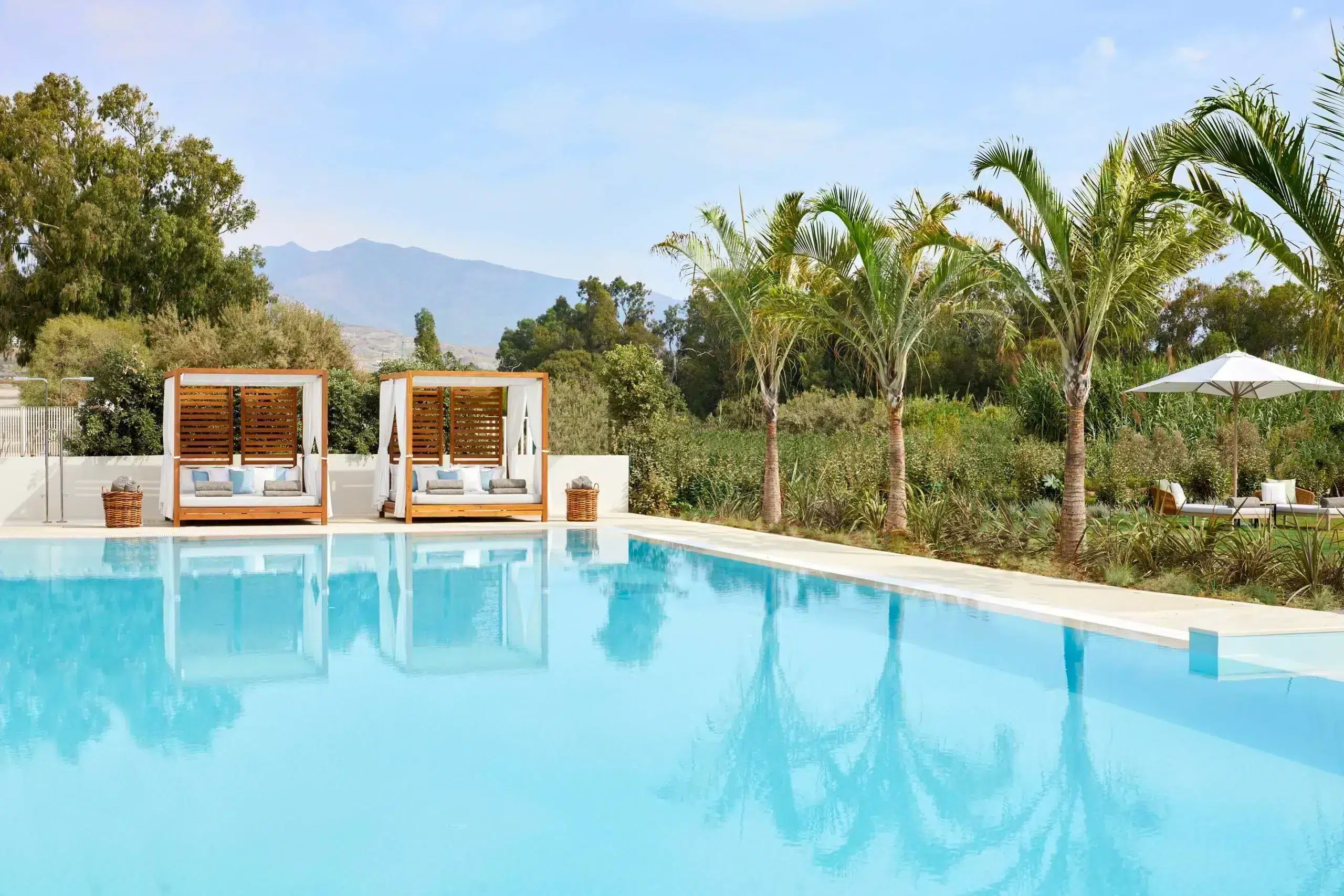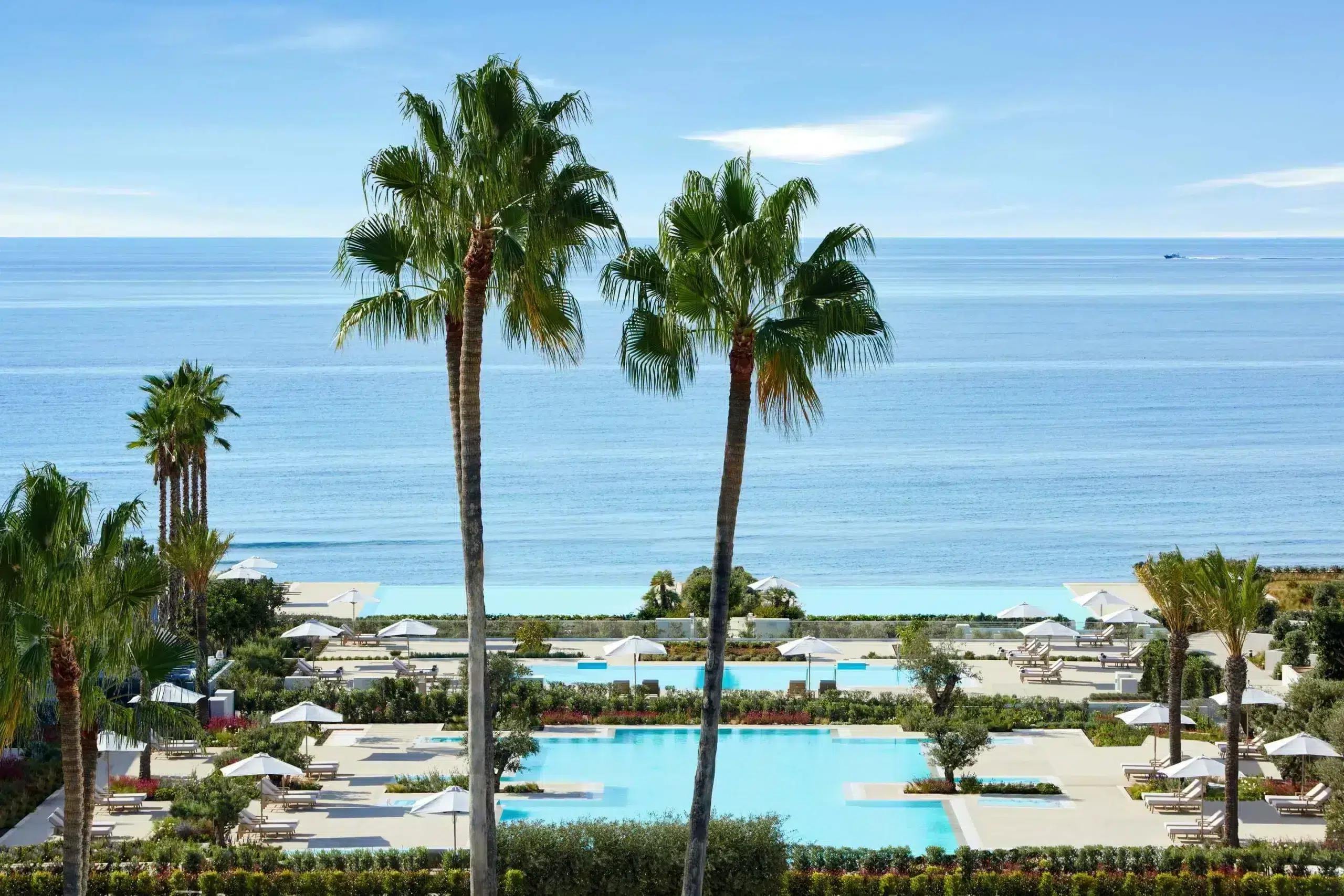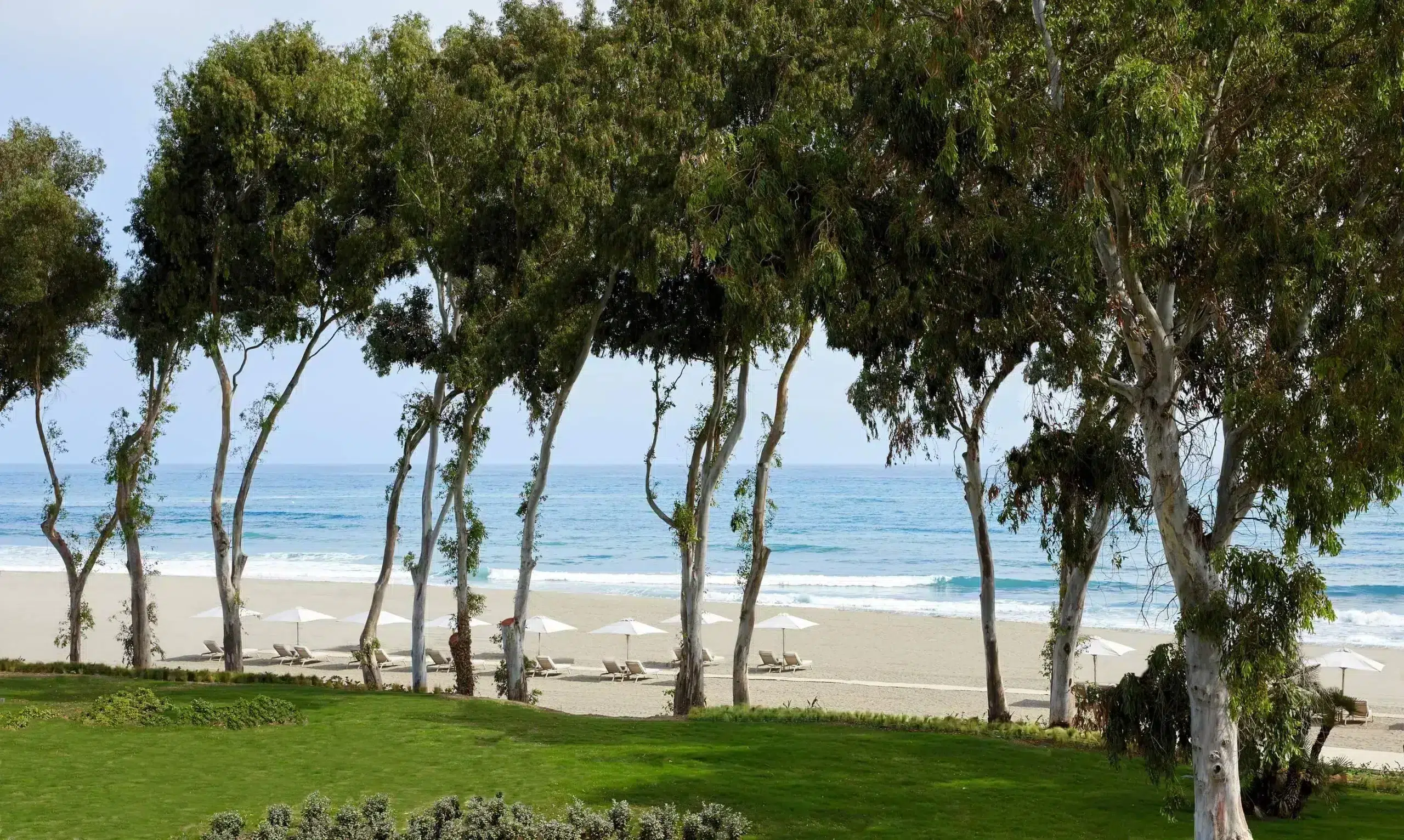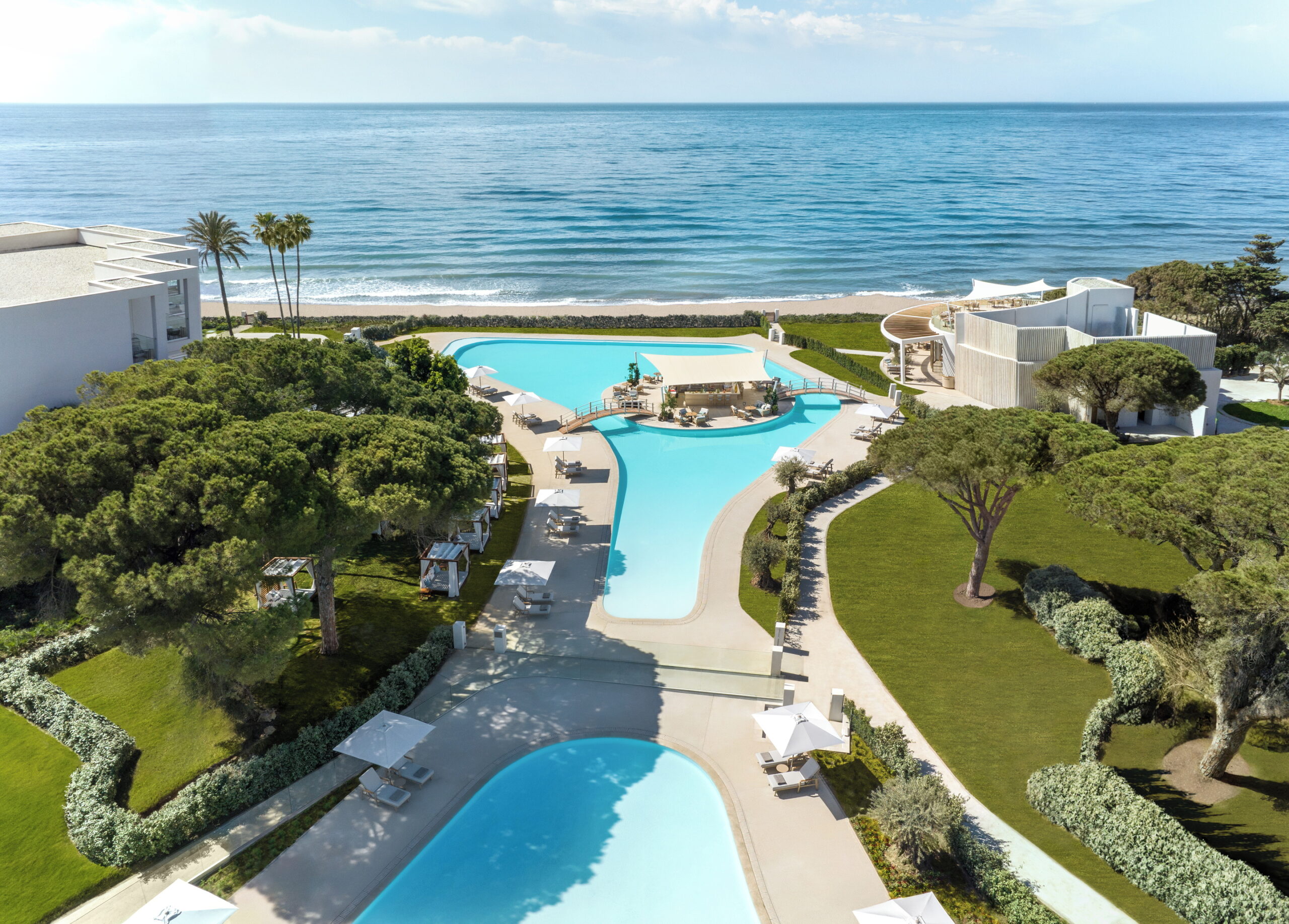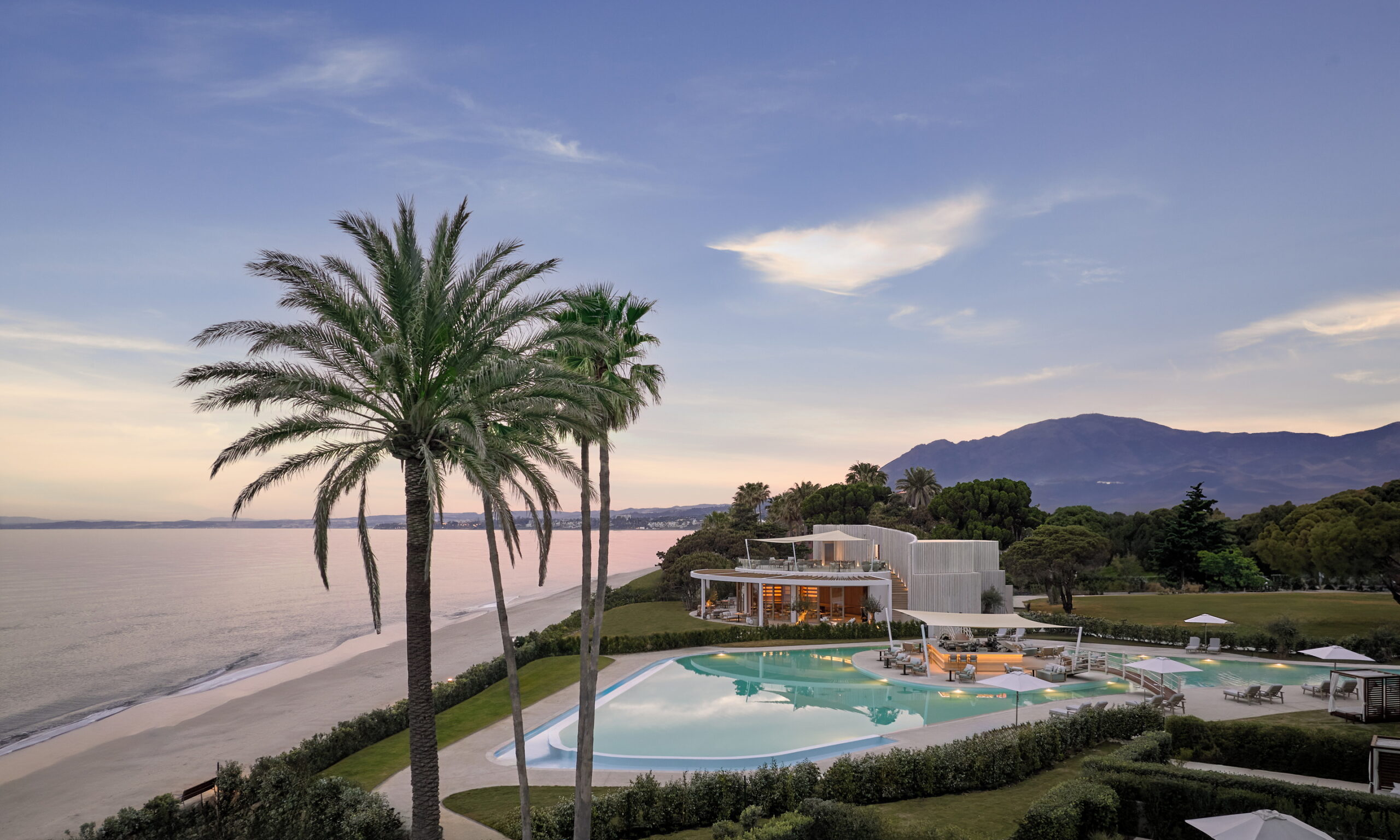 A world of
unforgettable
experiences
Settled on the shores of the Spanish Mediterranean, Ikos Andalusia offers a world of experiences for guests of all ages. From beach days and mountain biking trails to spa days and on the water adventures, it's all included with Ikos.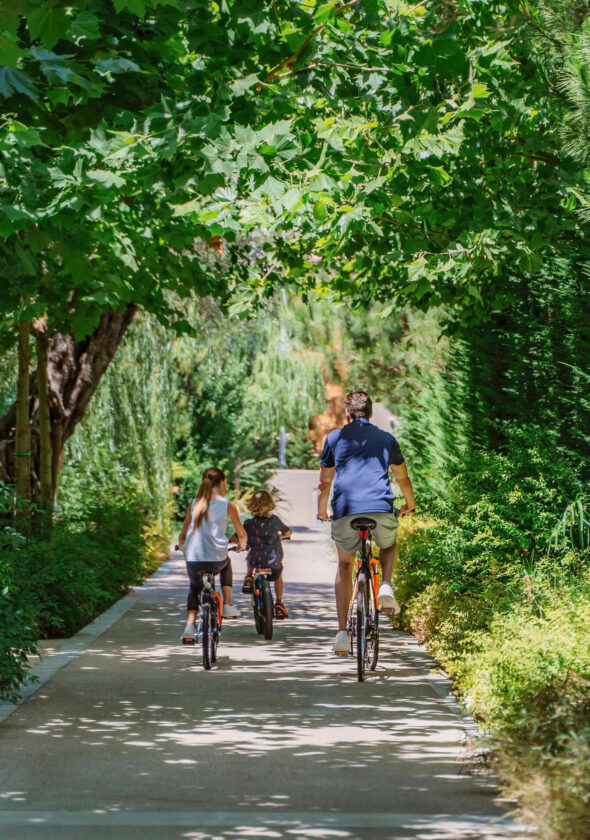 Activities
Activities
Experience more with our exceptional line-up of sports facilities and activities. Plunge into the warm Mediterranean waters, bike along stunning coastal paths, battle it out on state-of-the-art tennis courts or join a beachside yoga class.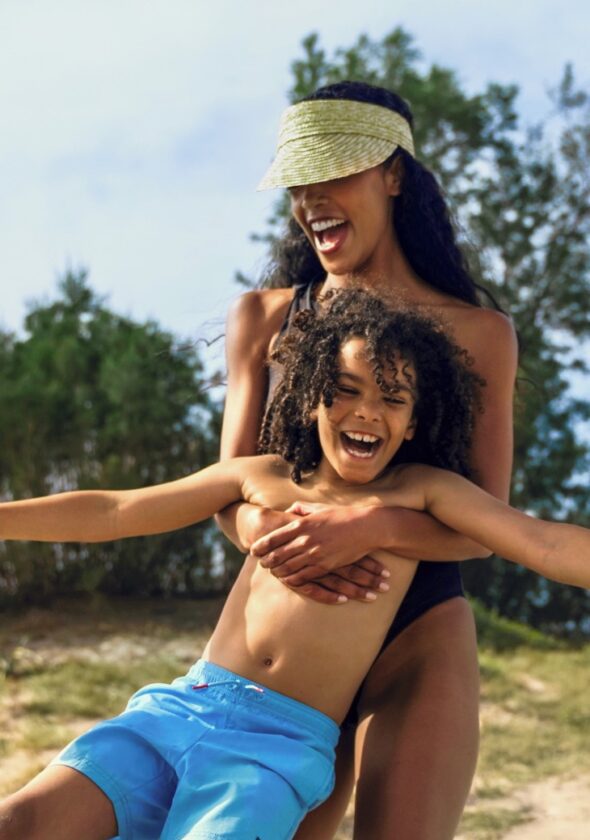 Kids
Kids
Ikos Andalusia offers an exciting programme of indoor and outdoor events for children of all ages. Your little ones will take home long-lasting memories from our Heroes Crèche, Kids Club and Teen Clubs, providing organised activities overseen by fully qualified professionals.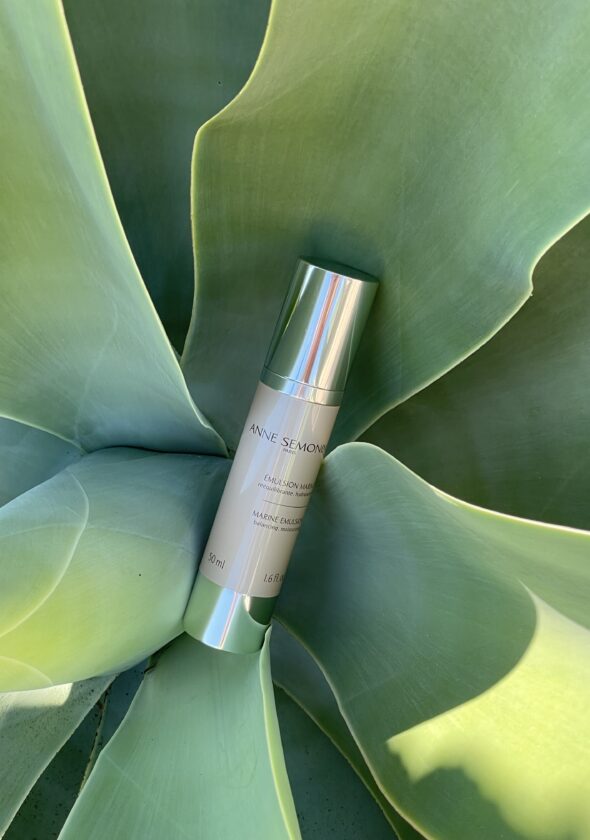 Spa
Spa
The Ikos Spa by Anne Semonin is an oasis of utter calm where you can relax and indulge in the serene surroundings with complimentary use of the thermal suites, pools and fitness facilities.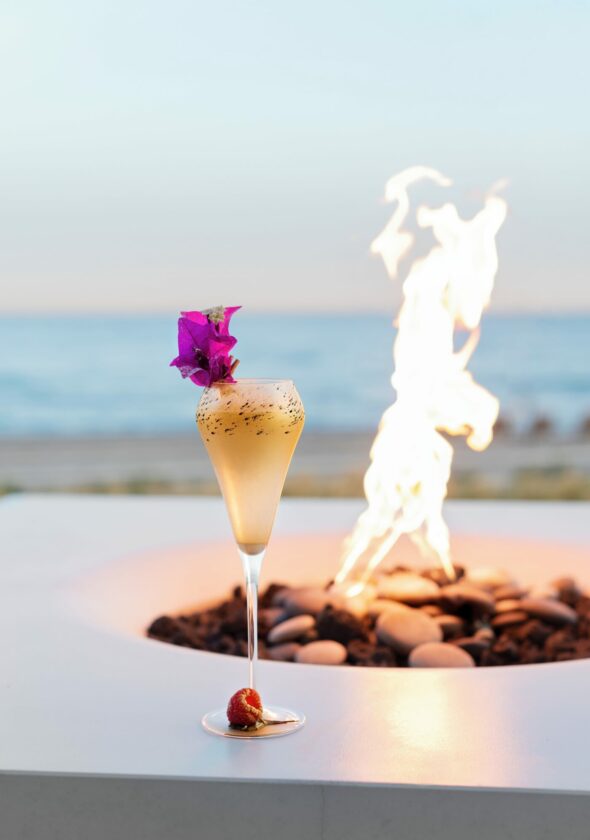 Entertainment
Entertainment
A world of evening entertainment is at your fingertips. Enjoy exceptional live music or a children's show for family-friendly fun. Or dance the night away with your loved ones at one of our exclusive beach parties as the sun sets on another perfect day.
Immerse yourself in this enchanting region with our sustainable Local Drive Adventure, and explore charming cobblestone villages and incredible nature at your own pace with a complimentary Tesla. Savour exquisite cuisine at local restaurants with the Dine Out experience, and enjoy a complimentary ticket per guest to a museum or historic site with Culture Pass, all part of your holiday experience.
"Couldn't recommend this enough, the staff are a credit to Ikos, they truly made us
feel like we were at a home from home... We are already planning our next trip!"
Guest Review on TripAdvisor, 2022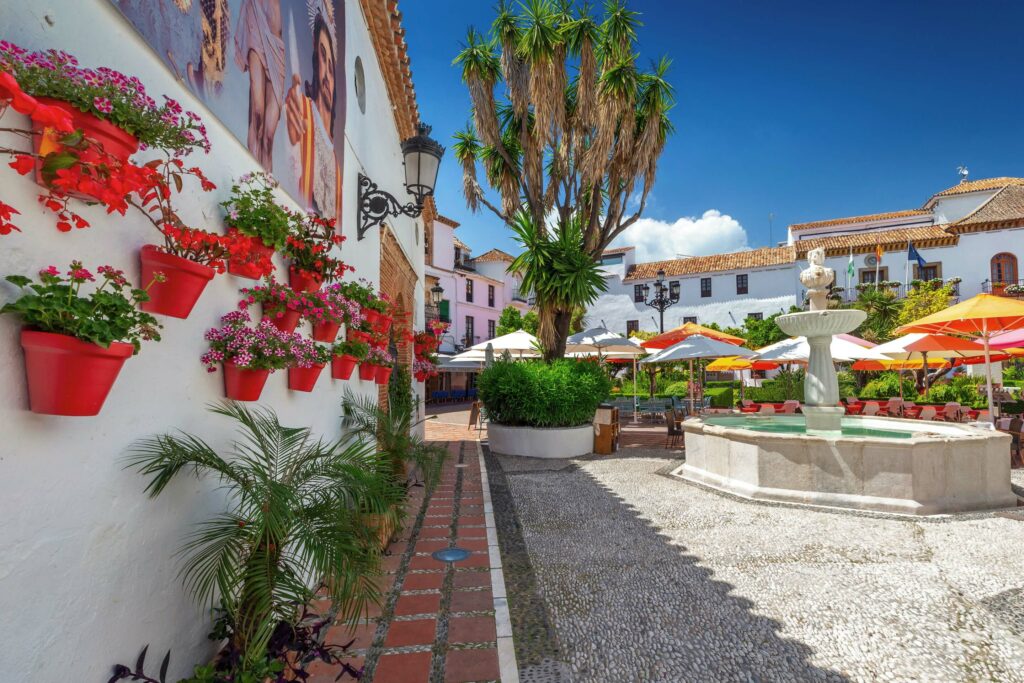 Destination Marbella-Estepona
Andalusia enjoys a rich history, with Moorish culture influencing everything from the architecture to the rich cuisine. Indulge in the exclusive charm of Marbella and the historic attractions of Estepona, and explore the natural beauty of the surrounding countryside.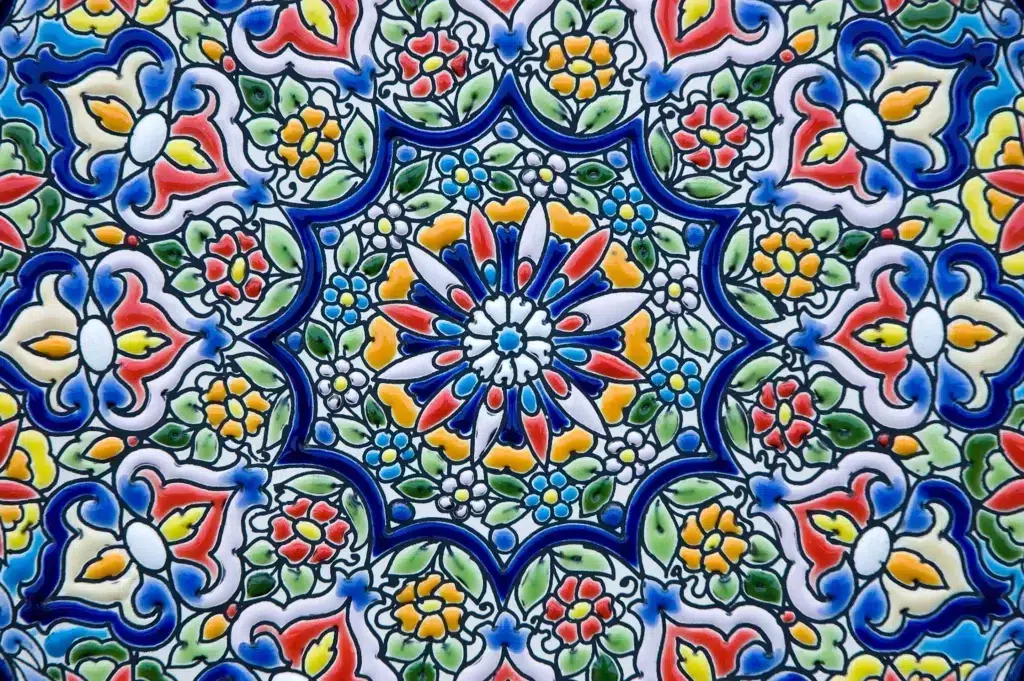 Ikos Andalusia is located in Estepona, on Spain's Costa del Sol. Close to Marbella, it's less than one hour from Malaga airport.
Ikos Andalusia Resort Map