Offrez-vous un festin de saveurs dans l'un de nos cinq restaurants, réimaginés pour 2024. Découvrez de délicieux mets inspirés de recettes asiatiques et italiennes, de la cuisine grecque et française et des classiques de la gastronomie méditerranéenne. Jouissez de décors magnifiques, de dîners en plein air, de menus à la carte signés par nos chefs étoilés au guide Michelin, ainsi que d'une sélection de 300 vins de qualité supérieure. Imprégnez-vous du romantisme du tout nouveau The Garden, mêlant intérieur et extérieur, sirotez votre boisson au bar panoramique Potami ou savourez des plats authentiques de Chalcidique dans le cadre de notre programme Dine Out.
Surplombant le bleu azur de la mer Égée, notre restaurant Ouzo en plein air a été entièrement rénové pour 2024 et propose un délicieux menu à la carte composé par Lefteris Lazarou. Mariant les saveurs grecques traditionnelles et modernes, ce chef étoilé au guide Michelin propose une cuisine locale innovante.
Dégustez votre boisson en admirant la vue fascinante sur la Méditerranée, tout en savourant les créations italiennes classiques du chef étoilé au Michelin Ettore Botrini dans ce restaurant entièrement rénové pour 2024.
Savourez de succulents plats au restaurant Anaya récemment rénové, offrant une cuisine inspirée de Chine, de Thaïlande et d'Inde.
Goûtez à une cuisine provençale divine dans ce restaurant délicieusement rénové et délectez-vous des saveurs françaises authentiques associées à une sélection haut de gamme de vins de toute l'Europe du Sud.
Offrez-vous un délicieux petit-déjeuner, déjeuner ou dîner, parmi une gamme alléchante de plats méditerranéens servis dans un cadre rénové et complétés par une sélection impressionnante de vins haut de gamme.
Tous les plaisirs de la table dans un tout nouveau cadre sophistiqué, où des plats délicieux vous seront servis dans une ambiance lounge décontractée.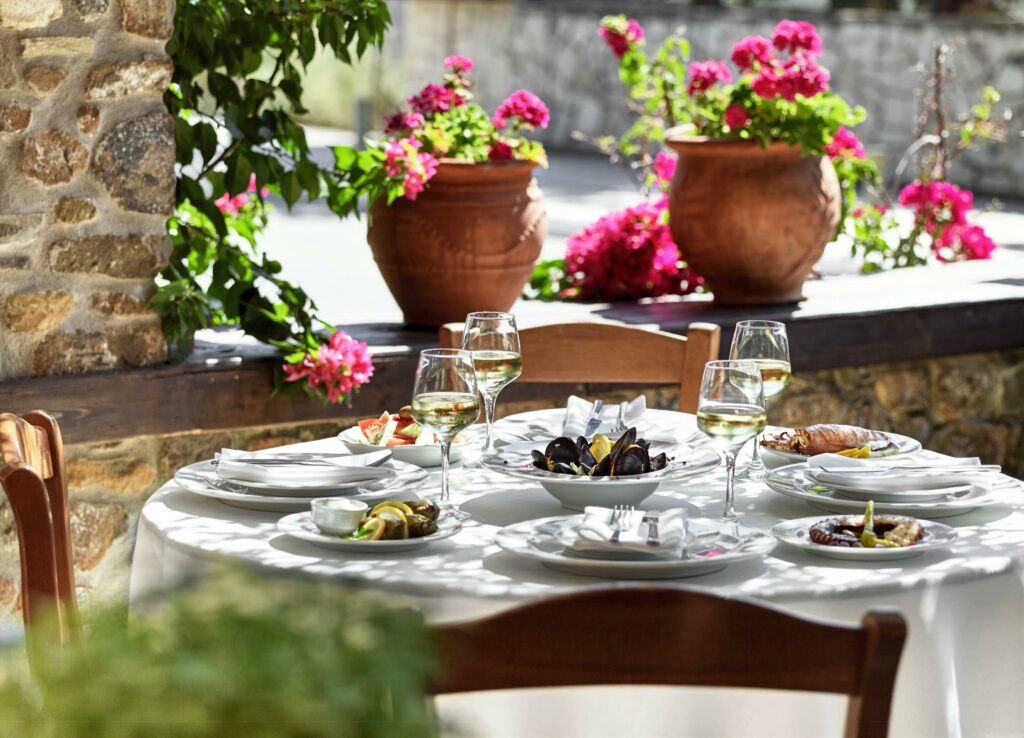 La cuisine locale emblématique de la région fait partie de votre expérience de découverte de la spectaculaire péninsule de la Chalcidique en Grèce. Goûtez à des saveurs locales authentiques avec notre programme unique Sortir Dîner, vous invitant à essayer certains des meilleurs restaurants de la région.
Visitez l'un de ces restaurants locaux sans frais supplémentaire :
Ithaki, taverne grecque traditionnelle, à 150 m du resort
Four Seasons, taverne grecque traditionnelle, à 200 m du resort
Mouragio, taverne grecque traditionnelle, à 220 m du resort
Ouverture: 09.00 – 18.00
Deluxe Bar
Proposant un menu haut de gamme composé de vins raffinés, de cocktails et de collations gastronomiques au bord de la piscine, le Deluxe Pool Bar a été entièrement rénové pour 2024, exclusivement pour nos hôtes séjournant dans les suites Deluxe Collection. Prélassez-vous à l'ombre ou profitez du soleil dans un environnement de calme, de beauté et de gourmandise.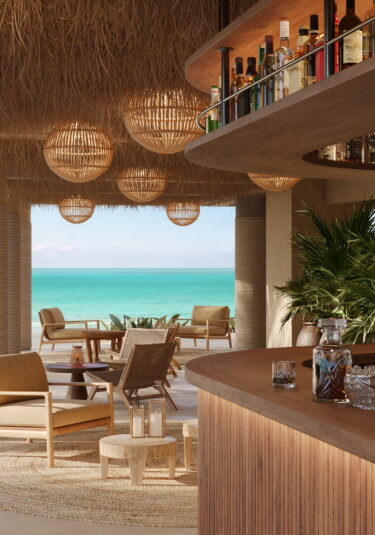 Ouverture: 09:00 – 24:00
Potami
Découvrez notre nouveau bar pour 2024. L'élégant bar Potami vous accueille pour étancher votre soif et assouvir votre faim tout au long de la journée. Avec une vue panoramique sur la mer et un menu haut de gamme, il est le lieu idéal pour des collations et des rafraîchissements.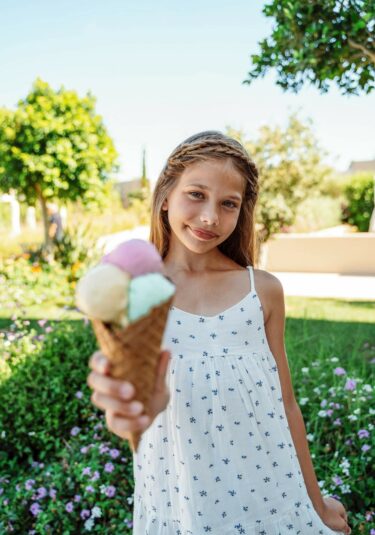 Ouverture: 10.00 – 19.00
Gelaterie
Take the edge of the heat with a creamy and delicious ice cream. Visit Gelaterie for a refreshing bite of dairy delight and a table with a view.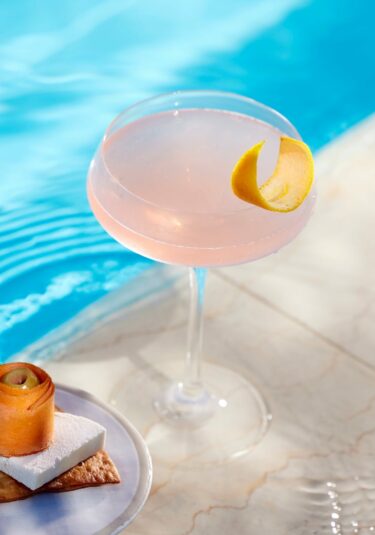 Ouverture: 09.00 – 18.00
Bar de la piscine
Le lieu idyllique pour profiter du soleil tout en dégustant votre cocktail glacé préféré. Idéalement situé pour vos collations et rafraîchissements après la baignade.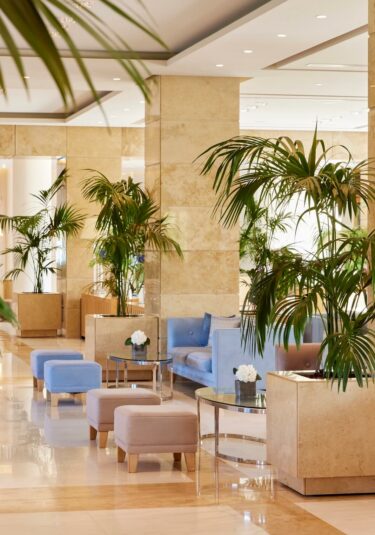 Ouverture: 09.00 – 02.00
Bar du lobby
Un cadre sophistiqué pour déguster de délicieux cocktails, des créations de café aromatiques servies par des baristas qualifiés et une sélection impressionnante de vins.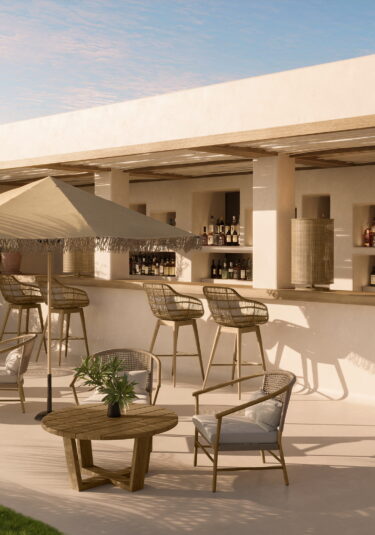 Ouverture: 09:00-18:00
Bar de la plage
Pour vos heures de détente au soleil de la Chalcidique sur notre plage de sable exclusive Pavillon Bleu, notre Beach Bar magnifiquement rénové propose des boissons sans alcool, des cocktails fruités et des collations en bord de plage.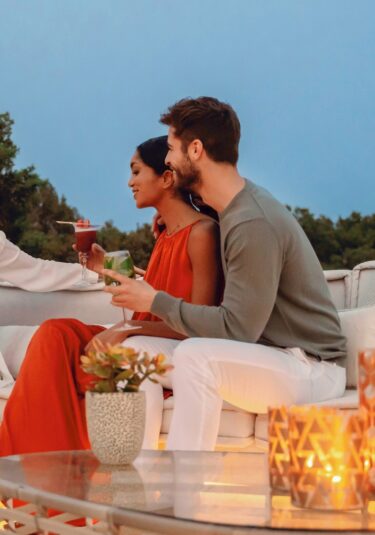 Ouverture: 20.30 – 24.00
Bar du Teatro
Pour passer des soirées à rire toute la nuit avec vos proches, il n'y a pas de meilleur rendez-vous que le bar du Teatro, un cadre dynamique et sophistiqué proposant des cocktails signatures, des bières premium et une sélection recherchée de vins.