Offrez-vous une farandole de saveurs dans nos cinq restaurants élégants. Des mets délicieux d'inspiration asiatique et des spécialités italiennes à la cuisine grecque et française en passant par les copieux plats méditerranéens, les possibilités de découverte culinaire sont infinies chez Ikos Olivia. Profitez d'un décor époustouflant, d'un dîner en plein air, de menus à la carte préparés par des chefs étoilés Michelin et d'une sélection de 300 crus. Pour des plats authentiques,de la Chalcidique, notre programme Sortir Dîner est l'occasion parfaite pour dîner dans de charmantes tavernes locales, le tout inclus dans votre séjour.
"Surplombant la mer Égée azur, Ouzo bénéficie d'un cadre en plein air propice à la sérénité et au plaisir des papilles avec son délicieux menu à la carte du chef étoilé Lefteris Lazarou. Combinant saveurs grecques traditionnelles et modernes, les plats innovants de Lazarou font la part belle aux ingrédients locaux, au poisson frais de la mer Égée et aux produits de saison provenant des terres luxuriantes de la Chalcidique."
"Découvrez des vues à couper le souffle sur la Méditerranée tout en savourant les créations inspirées des classiques italiens du chef étoilé Ettori Botrini. Sobre, contemporain et présenté avec art, le menu à la carte imaginatif de Fresco allie des ingrédients locaux frais à l'élégance simple mais inégalée de la cuisine italienne."
"Offrez-vous de délicieux plats des quatre coins du monde, avec des saveurs alléchantes venues tout droit de Chine, de Thaïlande et d'Inde. Avec son menu à la carte imaginatif, oeuvre du génie culinaire du chef étoilé Thiou, Anaya offre une expérience culinaire unique que vous choisissiez les intérieurs élégants du restaurant ou préfériez l'option al fresco sur sa superbe terrasse tranquille surplombant la mer Égée étincelante."
"Profitez d'une soirée sophistiquée dans un cadre romantique avec vos proches. Offrez-vous un menu à la carte soigneusement. Goûtez à la divine cuisine provençale et savourez les saveurs françaises authentiques et les goûts méditerranéens traditionnels associés à un sélection de vins de l'Europe du Sud."
"Du délicieux petit-déjeuner au dîner, en passant pas le déjeuner, une farandole alléchante de plats méditerranéens et une sélection impressionnante de vins haut de gamme, n'attendent que vous. Un monde de choix s'ouvre à vous. Surplombant la magnifique côte de la Chalcidique, Flavors propose un style buffet méditerranéen avec de nouveau mets exquis chaque jour."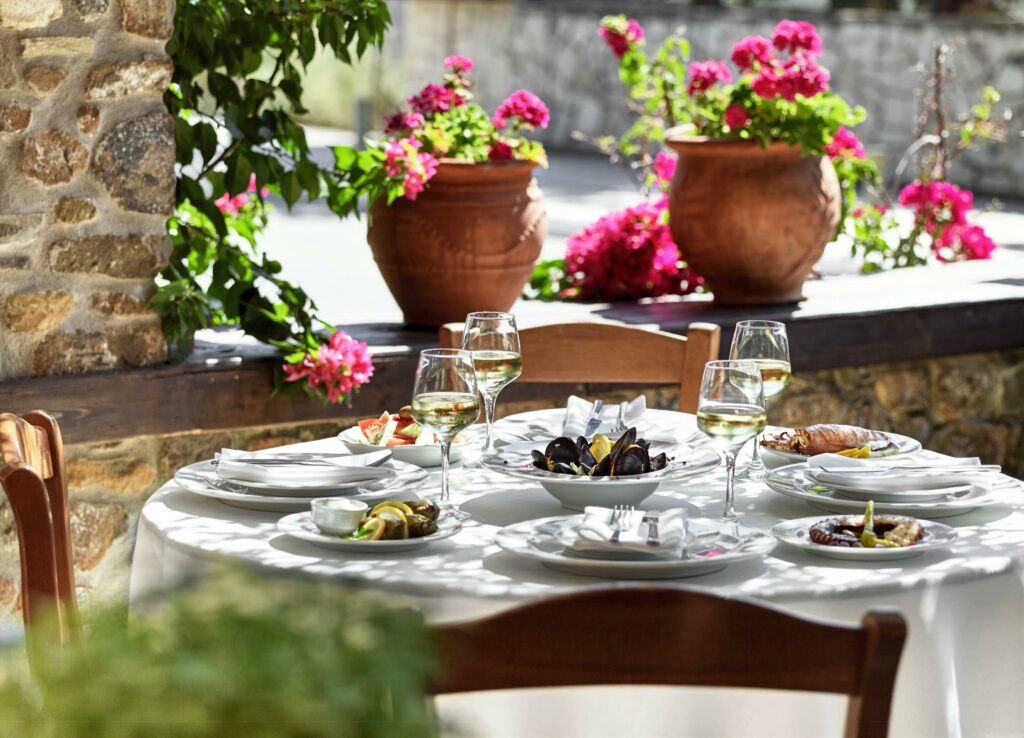 La cuisine locale emblématique de la région fait partie de votre expérience de découverte de la spectaculaire péninsule de la Chalcidique en Grèce. Goûtez à des saveurs locales authentiques avec notre programme unique Sortir Dîner, vous invitant à essayer certains des meilleurs restaurants de la région.
Visitez l'un de ces restaurants locaux sans frais supplémentaire :
Ithaki, taverne grecque traditionnelle, à 150 m du resort
Four Seasons, taverne grecque traditionnelle, à 200 m du resort
Mouragio, taverne grecque traditionnelle, à 220 m du resort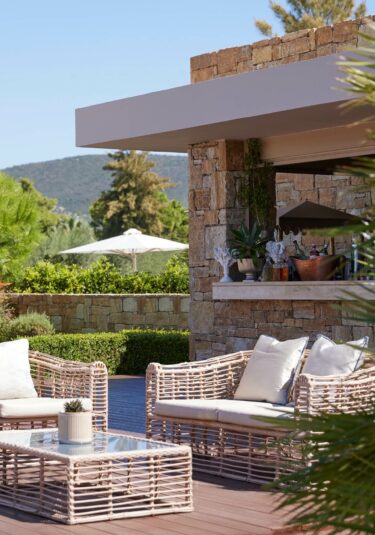 Ouverture: 09.00 – 18.00
Deluxe Pool Bar
Proposant une sélection haut de gamme de vins raffinés, de cocktails, de rafraîchissements glacés et de collations gastronomiques au bord de la piscine, le bar de la piscine Deluxe est exclusivement réservé aux hôtes séjournant dans nos suites de la Collection Deluxe. Prélassez-vous à l'ombre ou profitez du soleil entouré de calme, de beauté et d'indulgence.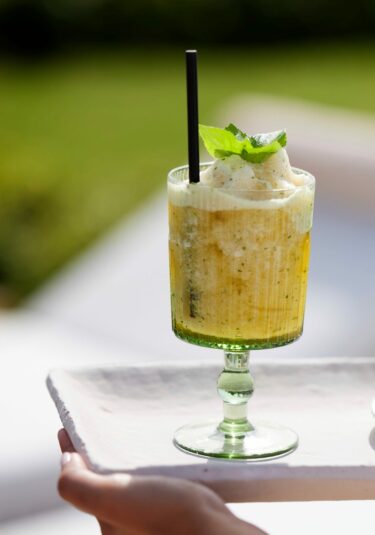 Ouverture: 09:00 – 24:00
Bar non stop
Rendez-vous dans ce bar ouvert non stop pour étancher votre soif et assouvir votre faim à tout moment de la journée. Avec une vue panoramique sur la mer et un menu haut de gamme, ce bar est le décor idéal pour des collations et des rafraîchissements à toute heure.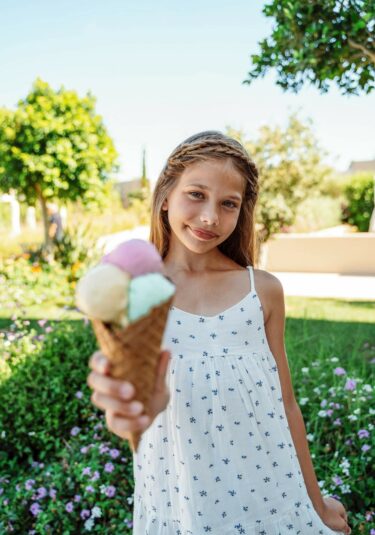 Ouverture: 10.00 – 19.00
Gelaterie
Take the edge of the heat with a creamy and delicious ice cream. Visit Gelaterie for a refreshing bite of dairy delight and a table with a view.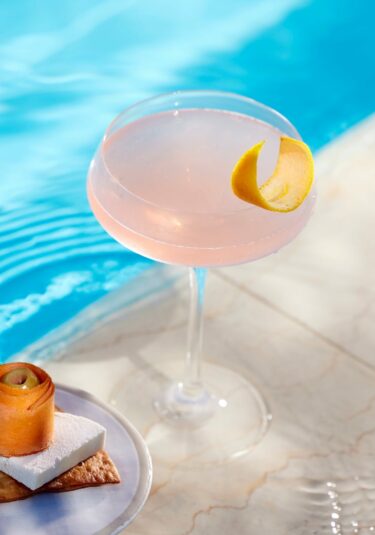 Ouverture: 09.00 – 18.00
Bar de la piscine
Le lieu idyllique pour profiter du soleil tout en dégustant votre cocktail glacé préféré. Idéalement situé pour vos collations et rafraîchissements après la baignade.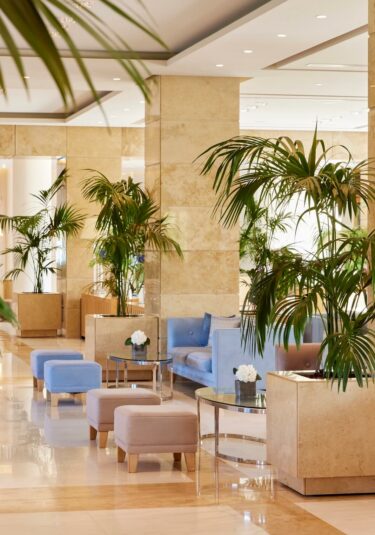 Ouverture: 09.00 – 02.00
Bar du lobby
Un cadre sophistiqué pour déguster de délicieux cocktails, des créations de café aromatiques servies par des baristas qualifiés et une sélection impressionnante de vins.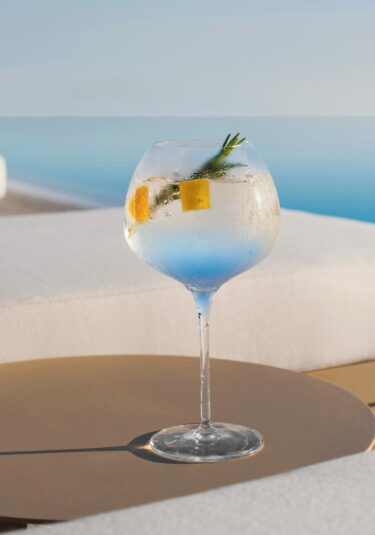 Ouverture: 09:00-18:00
Bar de la plage
Pendant les journées passées à profiter du soleil de la Chalcidique sur notre plage de sable exclusive, estampillée Pavillon Bleu, profitez toujours les pieds dans le sable, du service proposé par le bar de la plage et de sa large sélection de rafraîchissements, de cocktails fruités et de collations.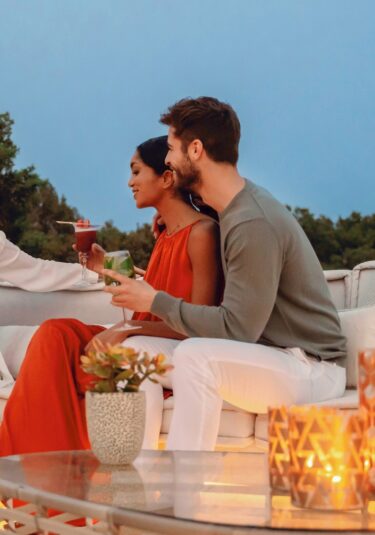 Ouverture: 20.30 – 24.00
Bar du Teatro
Pour passer des soirées à rire toute la nuit avec vos proches, il n'y a pas de meilleur rendez-vous que le bar du Teatro, un cadre dynamique et sophistiqué proposant des cocktails signatures, des bières premium et une sélection recherchée de vins.