Neuf restaurants raffinées proposent de goûter différentes cuisines du monde dans un cadre élégant à Ikos Andalusia. Des chefs étoilés ont conçu des délicieux menus, qui peuvent être accompagnés d'une sélection de 300 vins soigneusement sélectionnés. Voyagez à travers les saveurs de la Provence, de la Grèce, de l'Italie, de l'Espagne et de l'Asie, ainsi que des plats méditerranéens traditionnels. Et pour déguster une cuisine andalouse authentique, savourez un repas dans un restaurant local dans le cadre de notre programme Sortir Dîner. Appréciez le tout sans frais supplémentaire.
Savourez la richesse de la cuisine grecque riche avec une touche délicieusement moderne dans un cadre romantique en plein air. Combinant tradition grecque, techniques innovantes et goûts actuels, le menu d'Ouzo a été créé par le chef étoilé Lefteris Lazarou.
Guidé par le génie du chef étoilé Ettore Botrini, découvrez des sensations culinaires exquises tout droit venues d'Italie. Fresco propose les meilleurs plats à la carte pour goûter aux saveurs italiennes authentiques et aux produits frais locaux, le tout avec un accord mets et vins parfait.
Une sensation gustative unique vous attend avec cette version de fusion raffinée à la croisée de la cuisine chinoise, indienne et thaïlandaise. Un dîner à la carte imaginé par le chef étoilé Thiou et servi dans un cadre élégant qui célèbre les saveurs asiatiques et les ingrédients locaux.
Plongez le temps d'une soirée dans un décor romantique à la française en pénétrant dans l'atmosphère unique de ce magnifique restaurant à la carte. Célébrant les traditions provençales et les influences mondiales.
Découvrez un monde de choix chez Flavors, où vous trouverez une cuisine internationale servie sous forme de buffet élégant. La rencontre du zeste méditerranéen , d'ingrédients locaux, frais et ensoleillés et des influences du monde dans un cadre familial pour ravir les papilles de chaque hôte.
Découvrez les saveurs du sud de l'Espagne avec un délicieux menu à la carte du chef étoilé David Ibarboure. Dînez de mets exquis influencés par les traditions andalouses ensoleillées et la gastronomie espagnole moderne et concoctés à base des ingrédients locaux les plus frais.
Idéal pour des repas en plein air et des cocktails avec vue, le Club de la Plage sert des collations légères et un déjeuner tout au long de la journée, suivis d'un dîner à la carte. Installez-vous à l'ombre des pins odorants et dégustez une boisson glacée au Club de la Plage, ouvert à partir de 10h00.
Savourez des ingrédients frais et des saveurs méditerranéennes dans un cadre al fresco sublime avec vue sur la mer au Seasons. Ce restaurant à la carte propose les meilleurs produits de saison, préparés de manière experte par nos chefs passionnés.
Savour authentic Spanish cuisine at Chiringuito, an elegant take on the beloved Spanish beach restaurants that dot the coast. From light bites to traditional tapas and seafood affairs, enjoy a selection of the best that these Mediterranean waters have to offer.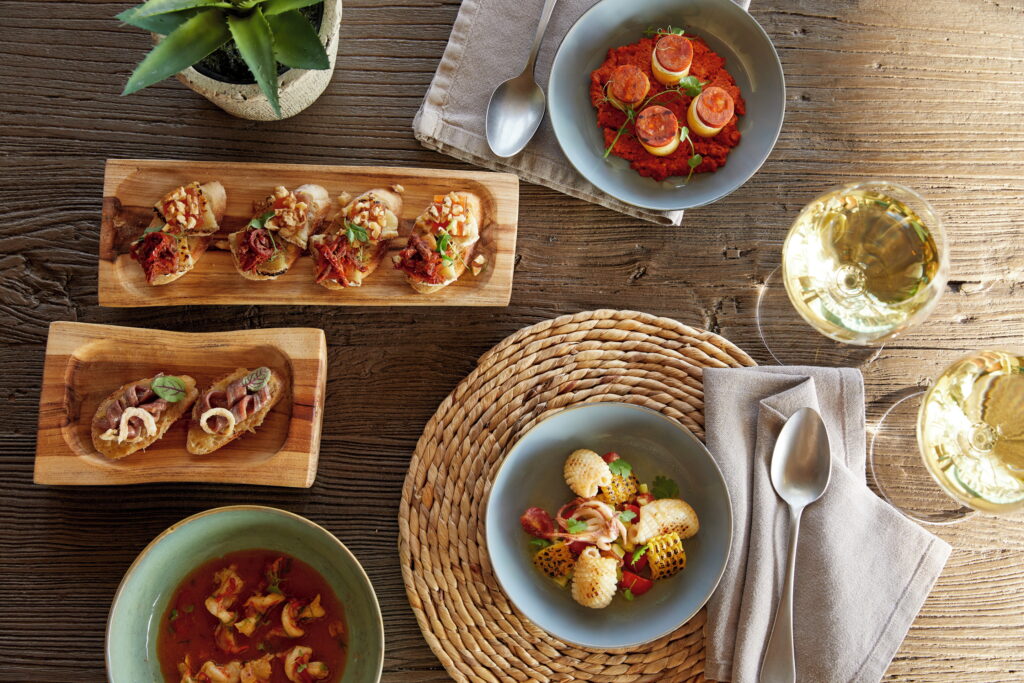 Explorez la riche culture gastronomique de la Costa del Sol avec notre populaire programme Sortir Dîner, qui offre aux hôtes la possibilité de se régaler dans une sélection de restaurants locaux sans frais supplémentaire.
Cette sélection des meilleures tables d'Andalousie vous propose d'essayer de délicieux mets authentiques avec vue sur l'éblouissante Méditerranée à Marbella comme des restaurants pittoresques dans les charmantes ruelles pavées de la vieille ville d'Estepona. Découvrez pourquoi cette région espagnole est connue pour ses délices culinaires.
Ouverture : 10h00-1h00
Bar principal
Un lieu central à Ikos Andalousie, où vous êtes assuré de trouver votre boisson préférée et un visage amical à chaque visite. Des jus du matin aux cocktails de fin de soirée en passant par plus plus de 300 références de vin, le choix vous appartient entièrement.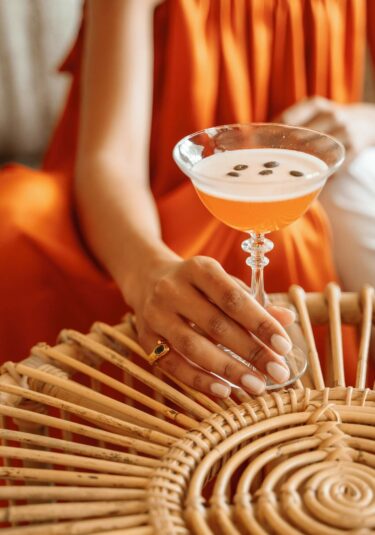 Ouverture : 8h00-22h00
Bar club de la plage
Profitez d'une boisson rafraîchissante avec vue spectaculaire sur les paysages andaloux, ses plages de sable et la Méditerranée scintillante. Profitez du soleil, évadez-vous de la chaleur et dégustez des cocktails raffinés dans un décor privilégié.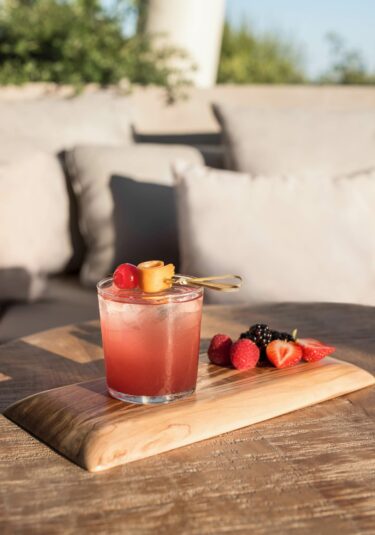 Ouverture : 9h00 – 00h00
Bar du lobby
Un bar sophistiqué au mobilier élégant, où vous pourrez déguster votre cocktail préféré, un café aromatique ou l'un des des 300 vins de la cave Ikos.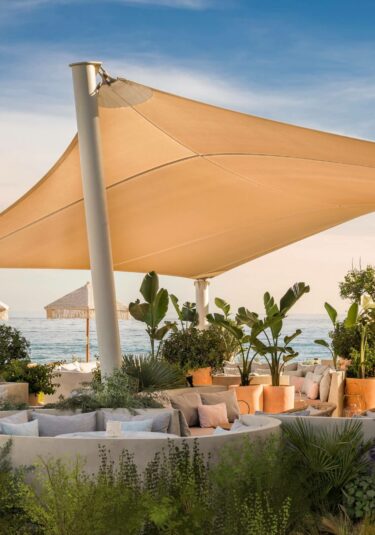 Open: 10:00 - 23:00
Cocktail Bar
Enjoy sundowners at our beachfront Cocktail Bar - accompanied by a melody of soothing ocean sounds, stunning views and an elegant setting.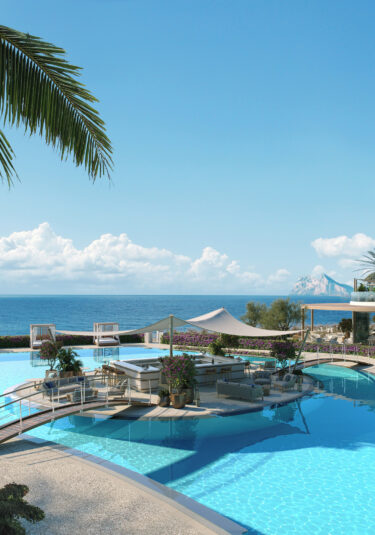 Ouverture : 9h00-22h00
Bar de la piscine Deluxe
Le bar exclusif de la piscine Deluxe est réservé aux hôtes séjournant dans nos suites de la Collection Deluxe. Offrant une vue imprenable, des cocktails et des vins raffinés, savourez votre boisson préférée dans un environnement frais en plein air.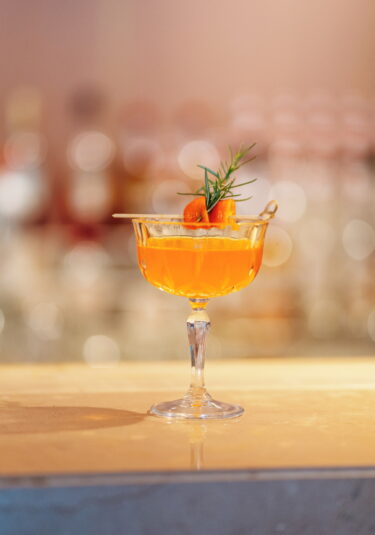 Open: 10:00 – 00:00
Seasons Bar
Mojitos for summer, cosmopolitans for spring - there's an expertly crafted cocktail for every season at the al fresco Seasons Bar, perfect for those warm evenings.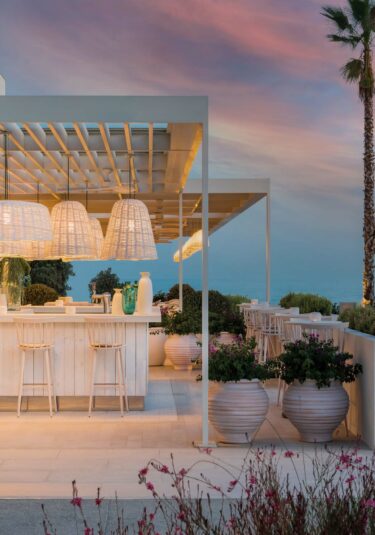 Ouverture : 8h00-22h00
Bar de la piscine
Profitez d'une boisson rafraîchissante servie dans le cadre décontracté du bar de la piscine. Un lieu ombragé et blanchi à la chaux contrastant avec le bleu éblouissant de la piscine, c'est le cadre idéal pour se reposer à l'abri de la chaleur et déguster des boissons raffinées dans un décor privilégié.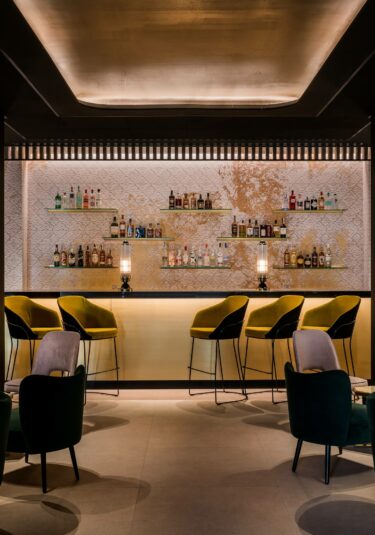 Ouverture : 23h00-1h00 (juillet et août)
Discothèque
Le bar de la discothèque est le lieu où il faut être. N'oubliez pas vos paillettes et souliers de danse, préparez-vous à danser toute la nuit dans les bras de votre bienaimé.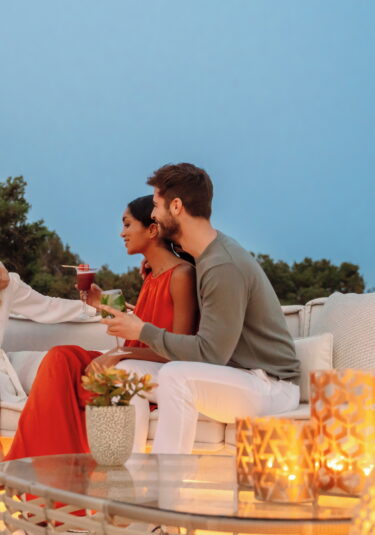 Ouverture : 21h00-23h00
Teatro
Dirigez-vous vers le Teatro après le dîner pour un digestif et des animations vibrantes. Profitez de la vaste cave de vins Ikos, de cocktails exclusifs et de raffinés dans un décor élégant.