Cocina gourmet bajo el sol andaluz
Nueve exquisitos restaurantes ofrecen cocina internacional servida en el entorno elegante de Ikos Andalusia. Los chefs de estrellas Michelin han diseñado menús refinados, que se pueden acompañar por una etiqueta de nuestra carta sofisticada de 300 vinos de primera calidad. Deja a tu paladar viajar entre los sabores frescos de Provenza, Grecia, Italia, España y Asia, con los platos tradicionales mediterráneos en el medio. Aún más, disfruta de la auténtica cocina andaluza en un restaurante local sin coste adicional, como parte de nuestro programa Dine Out.
Griego
Deja la rica cocina griega con un toque moderno delicioso agradar tu paladar en un ambiente romántico al aire libre. En un ejercicio gastronómico de alta calidad el chef Lefteris Lazarou, galardonado con estrella Michelin, ha creado el menú de Ouzo mediante la fusión de elementos de la tradición griega y sabores modernos aplicando técnicas innovadoras.
Italiano
Bajo la batuta del chef genial de estrella Michelin, Ettore Botrini, abre todo un mundo de exquisitas sensaciones culinarias de Italia. Fresco ofrece la mejor cena a la carta, auténticos sabores italianos y productos locales frescos acompañados por los vinos más finos.
Asiático
Una experiencia sabrosa te espera en esta refinada versión de las cocinas de China, India y Tailandia. Una cena a la carta creada por la chef Thiou, galardonada con estrella Michelin, y servida en un entorno elegante que festeja los sabores asiáticos y los ingredientes locales
Francés
Sumérgete en una atmósfera única de romance francés en este hermoso restaurante a la carta. En una fiesta de creatividad entre tradiciones provenzales e influencias globales, el exquisito menú viene de la mano de un chef de estrella Michelin.
Descubre un mundo de opciones en Flavors, donde excelentes platos de cocina internacional se extienden sobre un elegante buffet. Los sabores mediterráneos deleitarán los paladares más exigentes gracias a los ingredientes frescos y las influencias mundiales dentro de un entorno familiar.
Entra en una exquisita aventura entre los sabores del sur de España con un delicioso menú a la carta del chef David Ibarboure, galardonado con estrella Michelin. Degusta ricos platos inspirados en las tradiciones andaluzas y la gastronomía española moderna aprovechando siempre los ingredientes locales más frescos.
Ante las vistas magníficas del Beach Club disfruta de cócteles de autor, aperitivos ligeros y almuerzos durante todo el día, hasta llegar la hora de cenar a la carta al aire libre. A la sombra de los fragantes pinos no desperdicias la oportunidad de agradar tus sentidos con una bebida refrescante en el Beach Club, abierto a partir de las 10:00.
Disfruta de ingredientes frescos y sabores mediterráneos en el entorno sublime al aire libre con vistas al mar de Seasons. Esta experiencia gastronómica a la carta incluye los mejores productos de la temporada, elaborados con maestría en platos deliciosos por nuestros inspirados chefs
Saborea la auténtica cocina española en el Chiringuito, una versión elegante de los queridos establecimientos de playa que abundan en las costas españolas. Desde bocados ligeros hasta tapas tradicionales y platos de pescado y marisco, disfruta de una selección de lo mejor que pueden ofrecer estas aguas mediterráneas.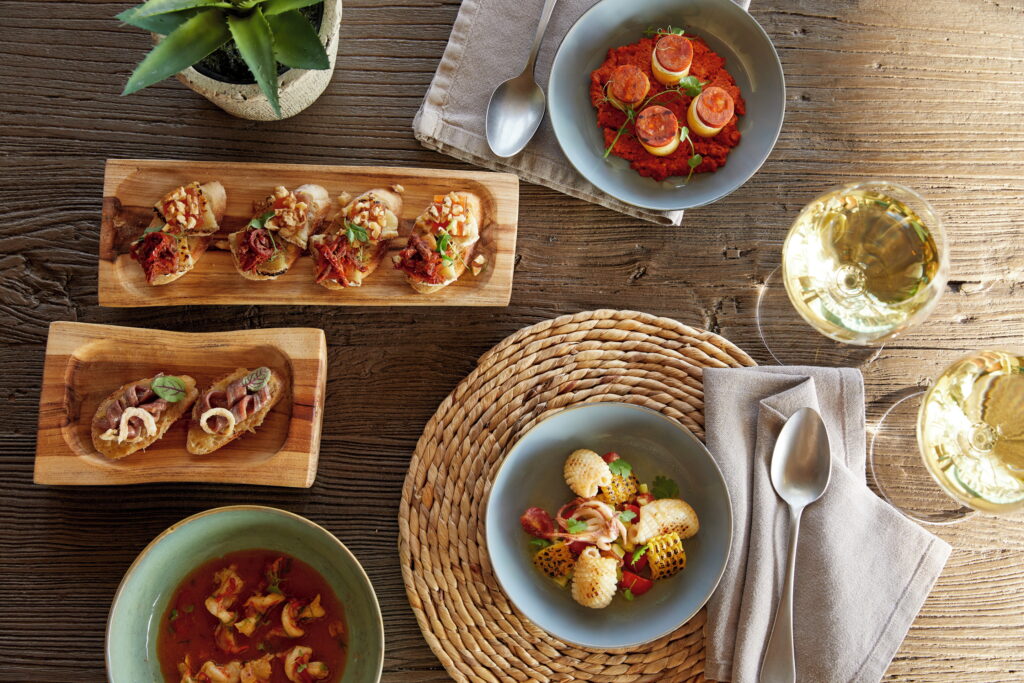 Explora la rica cultura gastronómica de la Costa del Sol con nuestro popular programa Dine Out, que ofrece a los huéspedes la oportunidad de probar sabores de seleccionados restaurantes locales sin coste adicional. Las opciones de Dine Out en Andalucía incluyen auténticas y deliciosas cenas andaluzas en Marbella y restaurantes típicos en los callejones empedrados del casco antiguo de Estepona. Descubre por qué esta región española es un destino culinario internacional.
Horario: 10:00-1:00
Main Bar
Un punto de referencia de Ikos Andalusia, donde puedes encontrar tu bebida favorita y caras amables cada vez que pases. Desde zumos matutinos hasta cócteles por la noche y más de 300 etiquetas de vino, la elección está totalmente en tus manos.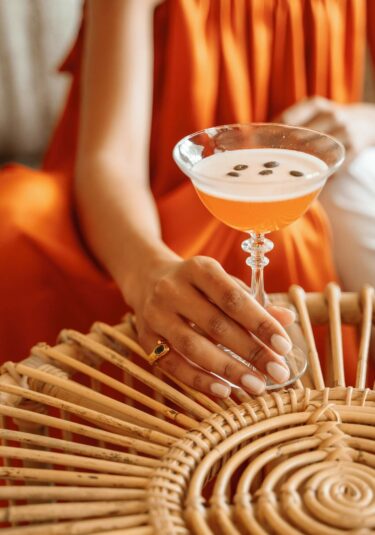 Horario: 08:00-22:00
Beach Club Bar
Disfruta de un cóctel refrescante con vistas espectaculares a las playas andaluzas y al seductor mar Mediterráneo. Toma el sol, refréscate del calor y disfruta de bebidas premium en un lugar privilegiado.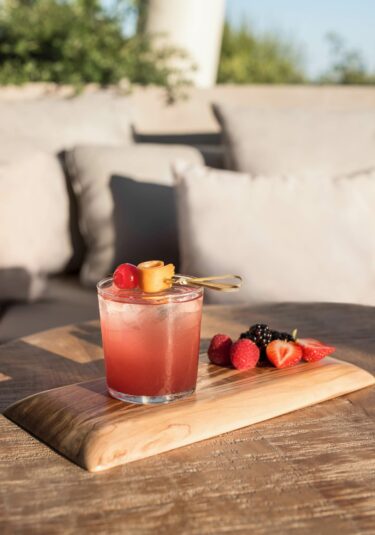 Horario: 09:00-00:00
Lobby Bar
Un bar sofisticado con mobiliario elegante, donde puedes disfrutar de tu cóctel favorito, un café aromático o una de las etiquetas de los más de 300 vinos de la carta de la Colección Ikos.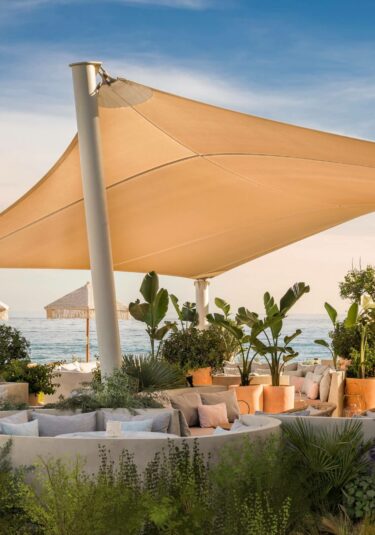 Horario: 10:00 - 23:00
Cocktail Bar
Disfrute de un cóctel al atardecer en nuestro Cocktail Bar frente a la playa, acompañado de una melodía de relajantes sonidos oceánicos, impresionantes vistas y un entorno elegante.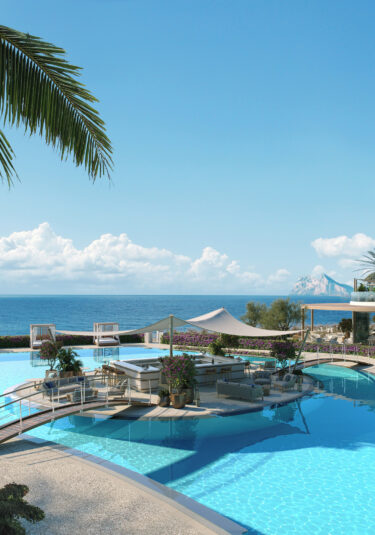 Horario: 10:00-19:00
Deluxe Bar
The exclusive Deluxe Pool Bar is is reserved only for guests staying in our Deluxe Collection suites. Offering stunning views, premium cocktails and fine wines, savour your favourite tipple in a cool, al fresco environment.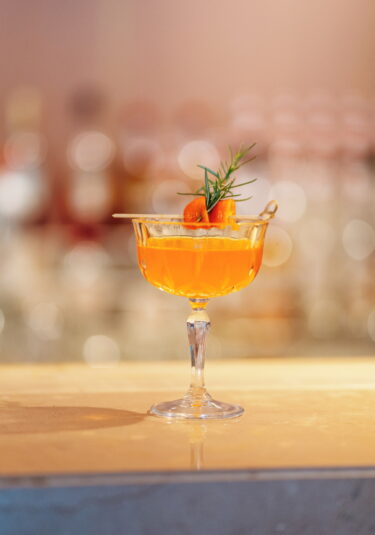 Horario: 10:00 – 00:00
Seasons Bar
Mojitos para el verano, cosmopolitas para la primavera: Seasons, el bar al aire libre, perfecto para las noches cálidas, le espera un cóctel elaborado por expertos para cada estación.​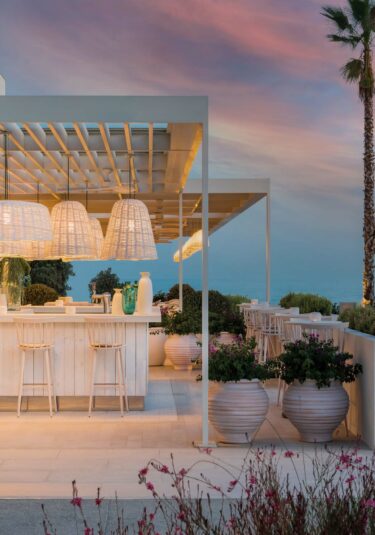 Horario: 10:00-18:00
Pool Bar
Disfruta de una bebida refrescante en el ambiente relajado del Pool Bar. Sus brillantes colores blancos contrastan con el azul efervescente de la piscina y su terraza en la sombra es el lugar idóneo para descansar del calor y disfrutar de bebidas premium en una ubicación privilegiada.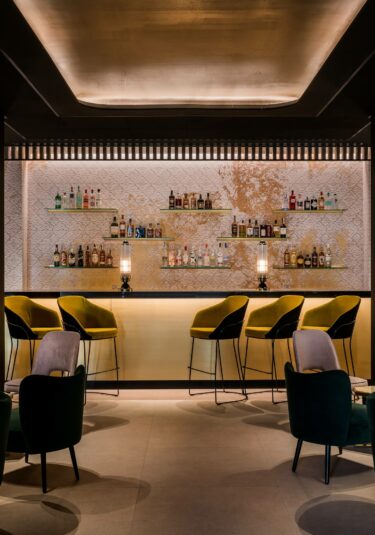 Horario: 23.00 – 01.00 (July & August)
Night Club
El Night Club es el lugar ideal para las noches dedicadas al baile y la diversión por lo que no te olvides tu calzado de danza y prepárate a bailar toda la noche a un ritmo placentero.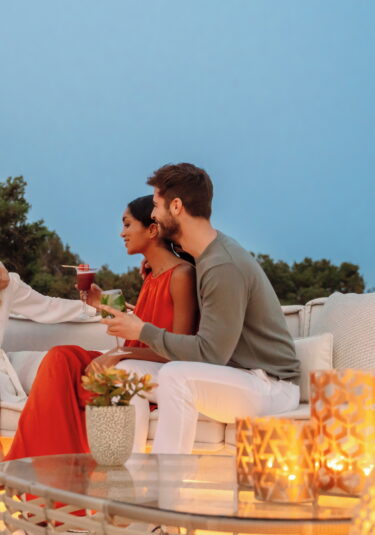 Horario: 21:00-23:00
Teatro
Visita el Teatro después de la cena para tomar un digestivo y asistir a un animado espectáculo. Prueba una etiqueta de la amplia carta de vinos de Ikos y disfruta de los cócteles de autor y de las copas premium en un entorno elegante.