La isla de Corfú representa una cautivadora mezcla de influencias culturales y aire cosmopolita en medio del legendario mar Jónico. Unos paisajes exuberantes, con importantes monumentos históricos en el camino, acaban a playas doradas para crear un destino diacrónico, repleto de memoria antigua y cálida hospitalidad.
Hermosas playas y vistas a la montaña
A lo largo del litoral de Corfú, innumerables playas de ensueño reclaman tu atención. Con sus aguas cristalinas y sus vistas a la montaña, la playa de Dassia, galardonada con Bandera Azul, se considera como una de las mejores. Más allá, te sorprenderás con la arena dorada de la remota Myrtiotissa, la vibrante localidad de Glyfada y las impresionantes rocas arenosas de las calas de Sidari.
SUGERENCIAS PARA VISITAS MÁS QUE INTERESANTES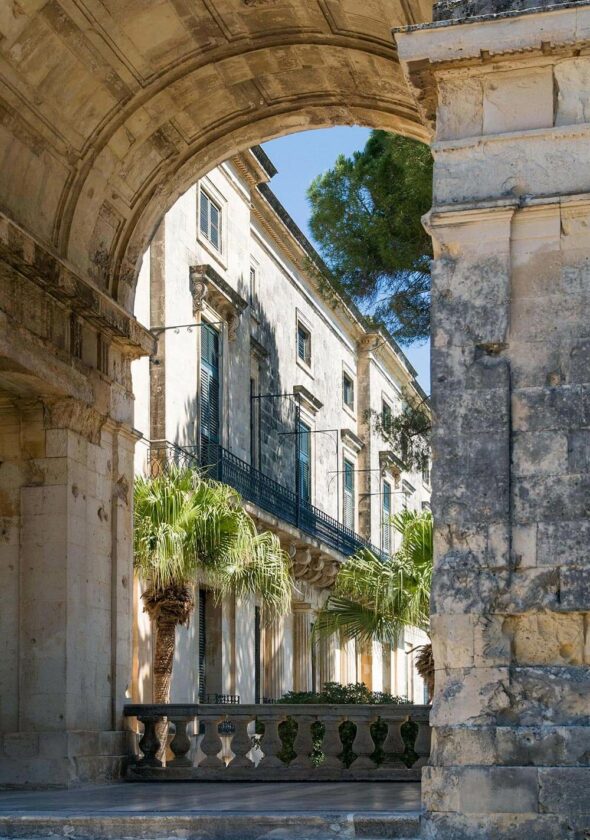 Corfu's majestic town
Corfu's majestic town
A Unesco World Heritage Site, the majestic town of Corfu is a splendour of cobblestoned streets and world-famous museums. Relics from a remarkable history of Venetian, French and British rule unfurl at every corner as you stroll past the Palace of St Michael and St Georgiou, the Liston Arcade, the Kapodistrias family mansion, and more.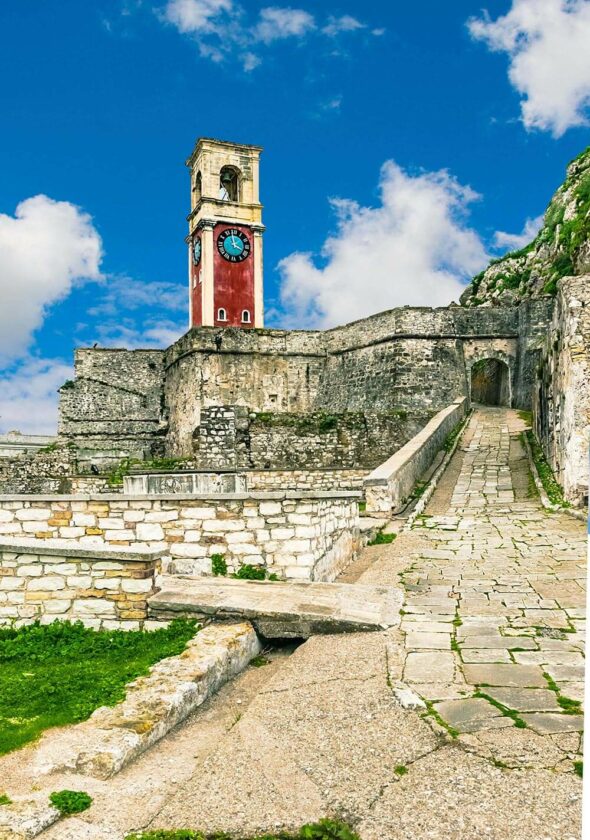 Corfu's Iconic Fortresses
Corfu's Iconic Fortresses
Blend old and new with a trip to Corfu's two ancient fortresses. Built in the 13th Century, the Old Fort (Palaio Frourio) is an incredible sight, featuring the British-built church of St George. Then, towering above the northwest border of the capital is the 16th-century Neo Frourio (New Fort), an architectural masterpiece constructed by the Venetians.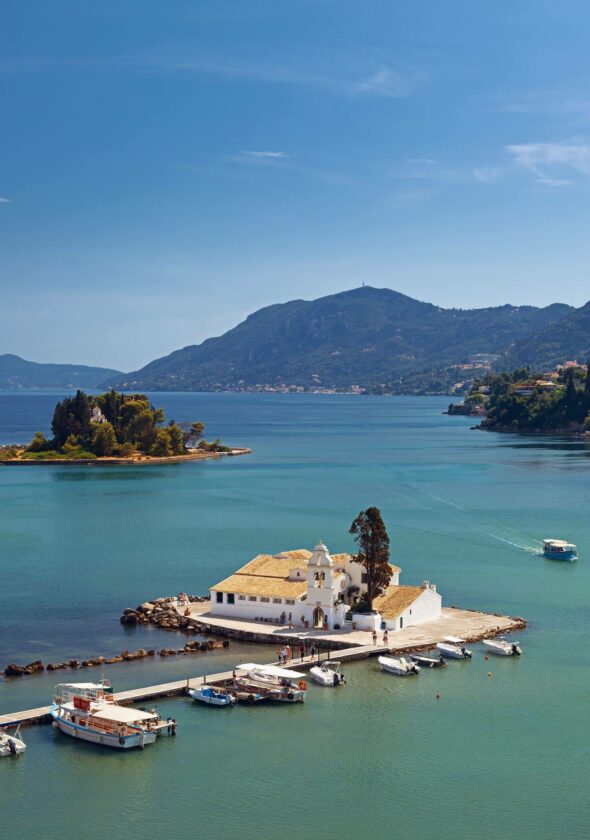 Kanoni and Mouse Island
Kanoni and Mouse Island
Visit two of the most famous landmarks of Corfu - the diminutive islands of Pontikonisi (Mouse Island) and the islet of Vlacherna. Pontikonisi is just large enough to hold the impressive Pantokrator monastery. And nestled beside it, the famous islet Vlacherna, with its 17th-century monastery dedicated to the Virgin Mary, is connected to the mainland by a narrow causeway.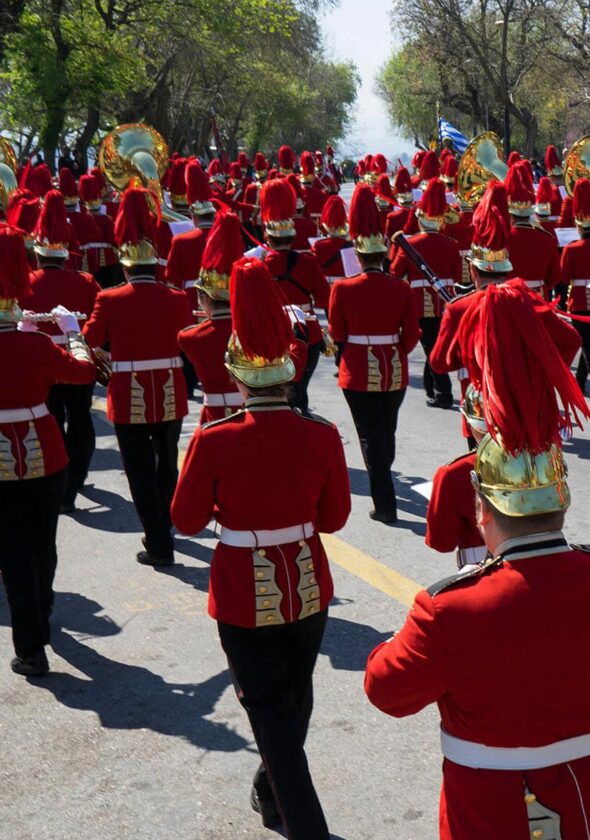 Easter Celebrations
Easter Celebrations
Corfu's Easter celebrations make mid-April the perfect time to visit this beguiling island. On Good Friday, processions bearing the mummified body of the island's patron, St Spyridon are accompanied by the celebratory sound of the Corfu Philharmonic. While Holy Saturday sees raining 'botides' (clay jars thrown from balconies) cover the streets.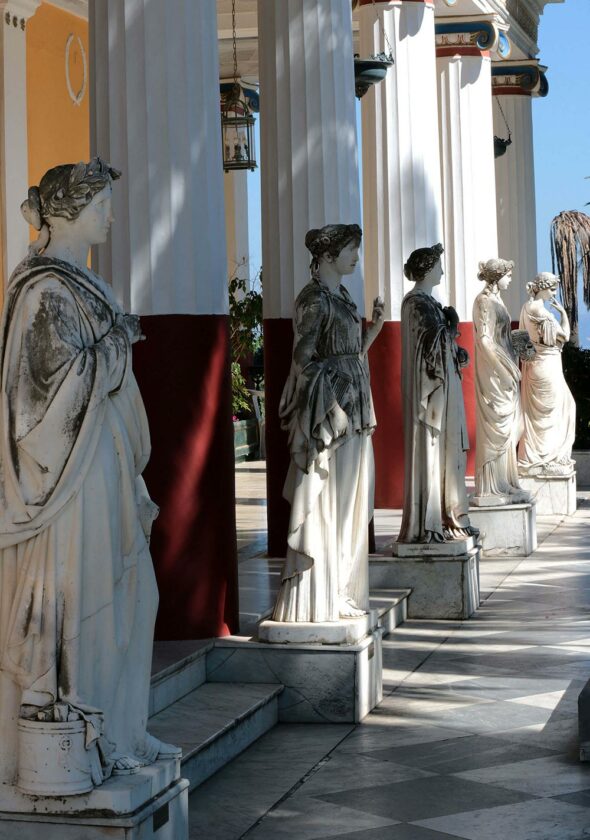 Achillion Palace
Achillion Palace
The island's imperial past is one of the reasons it enjoys its reputation as one of Greece's most glamorous destinations. This is why Empress Elizabeth of Austria-Hungary, the legendary Sissi, chose Corfu to build her spectacularly opulent palace. This elegant Pompeian-style building also has beautiful gardens where visitors can marvel at the famous statue of Dying Achilles.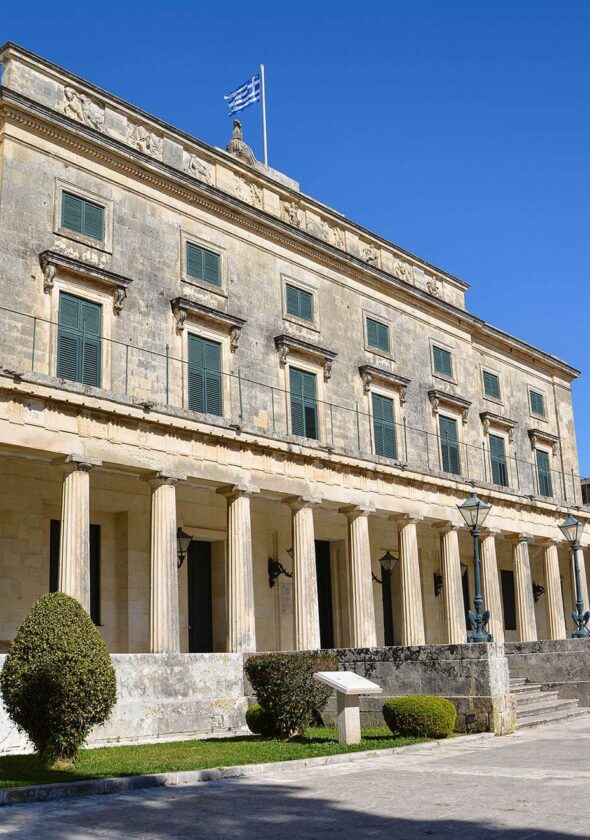 Museums
Museums
The only museum of its kind in Greece, the Corfu Museum of Asian Art is located in the Palace of Saint Michael and Saint George, an impressive, collonaded 19th-century palace by the sea. Combine it with the Capodistrias Museum, the only one dedicated to Ioannis Capodistrias, and Byzantine art of The Antivouniotissa Museum, and the Venetian Old Fortress.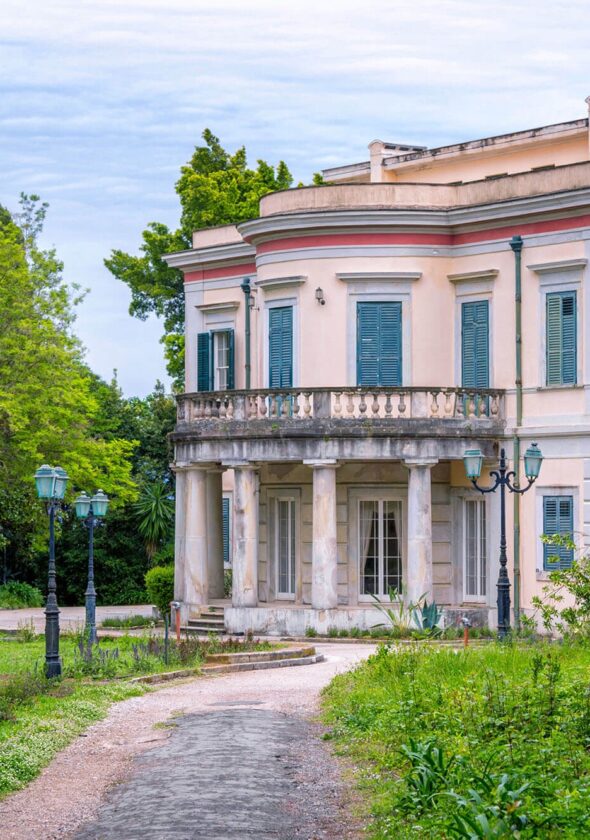 Mon Repos
Mon Repos
British High Commissioner Frederick Adam built this idyllic summer residence for his wife, Nina Palatianou, in the early 19th Century. Situated among the beautiful verdant forests and lush greenery that characterises the island, Mon Repos occupies the site of ancient Corcyra, as the city was then called, and houses the Palaiopolis museum and botanical gardens.
Para un aire cosmopolita, playas vírgenes y vistas infinitas al mar Jónico.
Para un lujo relajado, espacios abiertos y arenas doradas bañadas por las aguas transparentes del mar Jónico.