La plus grande des îles Baléares baignées du soleil d'Espagne, Majorque est un havre de plages immaculées, de montagnes côtières escarpées et de villes à flanc de colline pleines de caractère. Plongez dans des eaux saphir scintillantes, pédalez et découvrez de charmants villages et des champs d'oliviers et d'amandiers, ou promenez-vous dans les rues pavées de la capitale, Palma.
Le Rêve de tout Explorateur
Avec ses deux superbes chaînes de montagnes, ses plages de sable sans fin, ses eaux chaudes et azurées et ses côtes escarpées, Majorque est le rêve de tout explorateur.
Découvrez des vestiges romains, des musées renommés, des villages en pierre perchés et des restaurants pittoresques.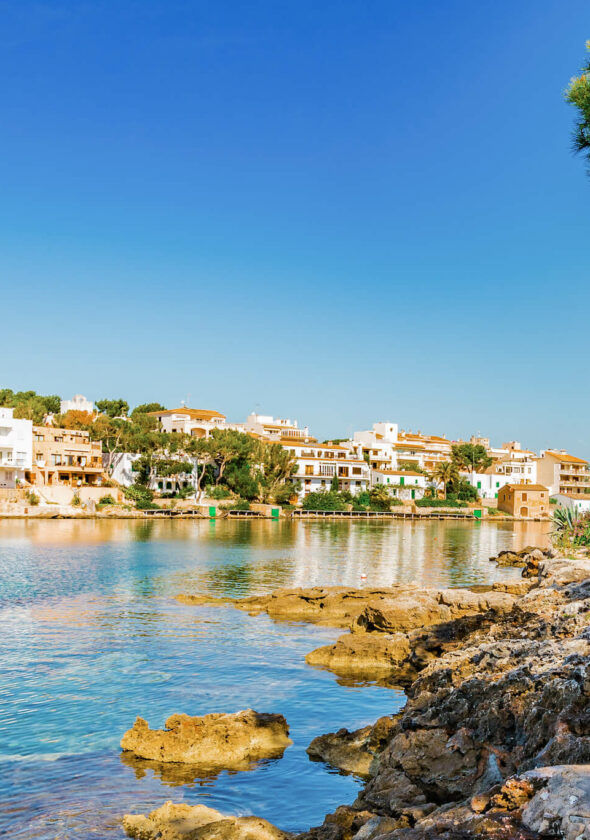 Porto Petro Village
Porto Petro Village
A serene fishing village with a charming harbour and authentic ambience, Porto Petro lies just beyond the resort grounds. Admire colourful houses with traditional Mallorcan shutters, elegant yachts floating on the tranquil waters, and waterfront restaurants serving authentic local delicacies. Climb Porto Petro tower for unrivalled harbour views, and explore a village overflowing with artisanal crafts and independent boutiques.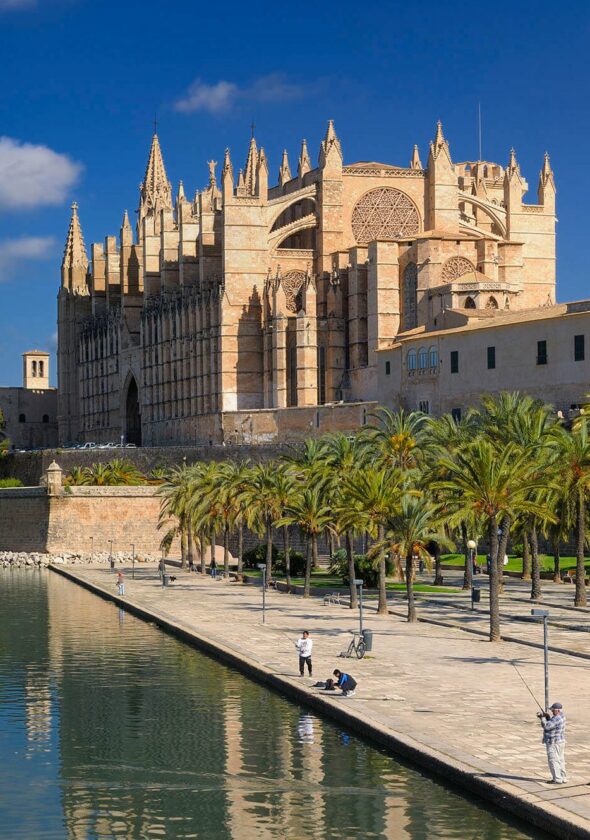 Palma de Majorque
Palma de Majorque
La capitale de l'île est un centre culturel avec ses monuments fascinants et ses délicieux mets locaux. Promenez-vous dans les rues pittoresques de la vieille ville de Palma, émerveillez-vous devant les superbes arcades anciennes et les palais historiques et vivez à l'heure locale dans un des nombreux bar à tapas. Pour les amateurs d'art, le musée d'art contemporain Es Baluard regroupe des œuvres de plus de 500 artistes et l'atelier de Joan Miro offre une vue remarquable sur la ville.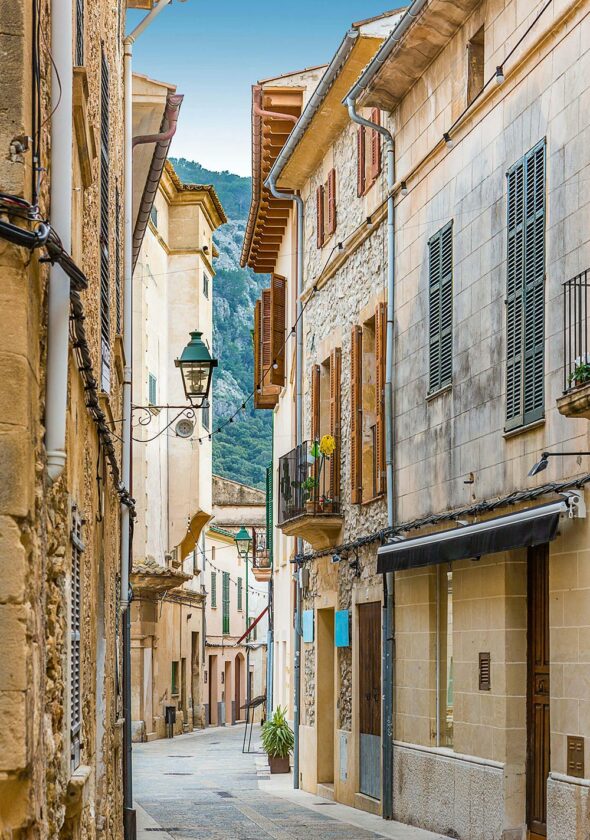 Villages Pittoresques
Villages Pittoresques
Majorque regorge de villes pittoresques à explorer, des superbes villages perchés à flanc de montagnes de la Sierra Tramuntana aux vieilles villes de pêcheurs endormies. Promenez-vous dans les villes médiévales d'Alcudia et d'Arta, imprégnez-vous du charme d'antan des collines de Valldemossa et Deia, ou promenez-vous dans les ruines romaines à découvert de la charmante Pollença.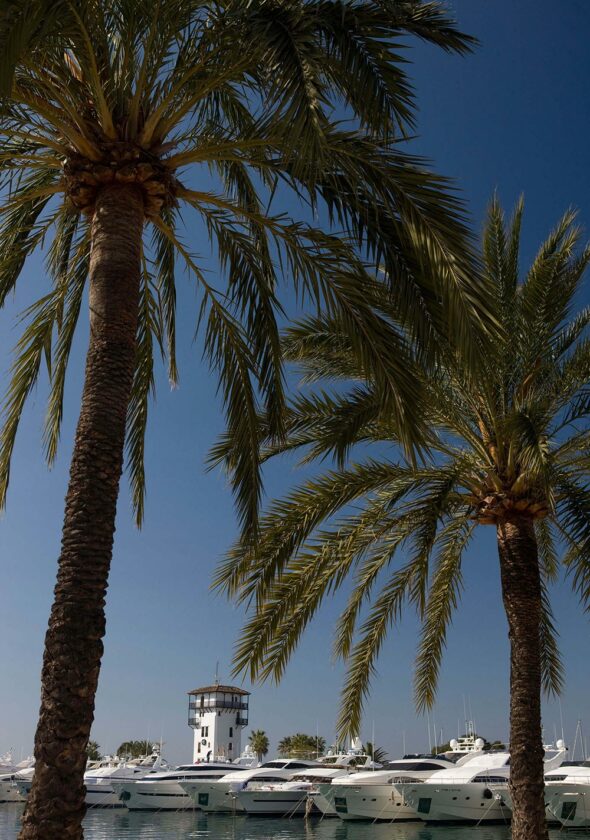 Puerto Portals
Puerto Portals
Haut lieu des célébrités et favorite de longue date de la famille royale espagnole, Puerto Portals est une station balnéaire glamour avec ses restaurants exclusifs, ses boutiques de créateurs et sa marina extravagante remplie de yachts. Vivez la vie des riches et célèbres d'Europe et profitez d'expériences culinaires exquises et de spectacles hauts en couleurs.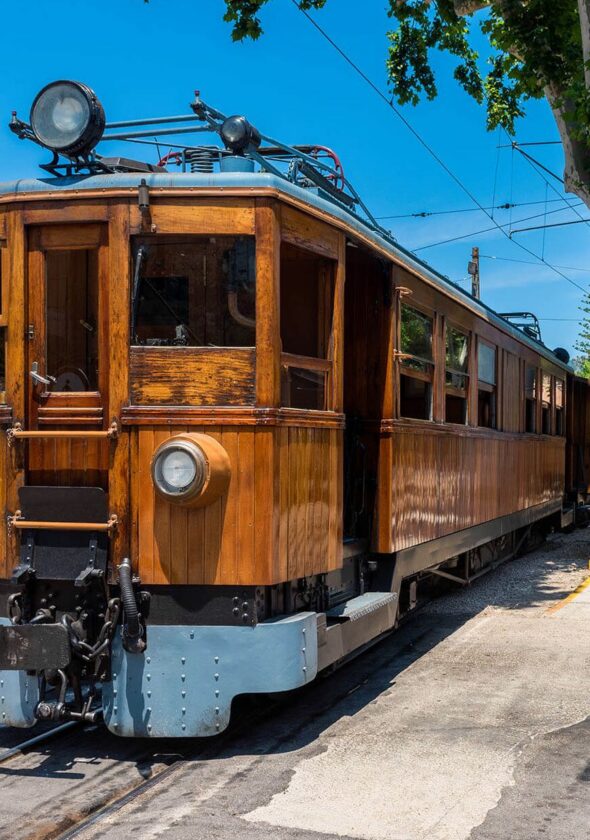 Escapades Panoramiques en Train
Escapades Panoramiques en Train
Le train de Soller est une balade panoramique à travers les montagnes de la Sierra de Alfabia, offrant des vues spectaculaires sur de magnifiques côtes escarpées, criques turquoise et villages pittoresques perchés. Soller, le dernier arrêt de la route, est une ville idyllique nichée dans les montagnes qui ne demande qu'à être explorée. Puis montez à bord du tramway local et profitez d'une promenade dans la végétation luxuriante jusqu'à la ville portuaire pittoresque de Puerto de Soller.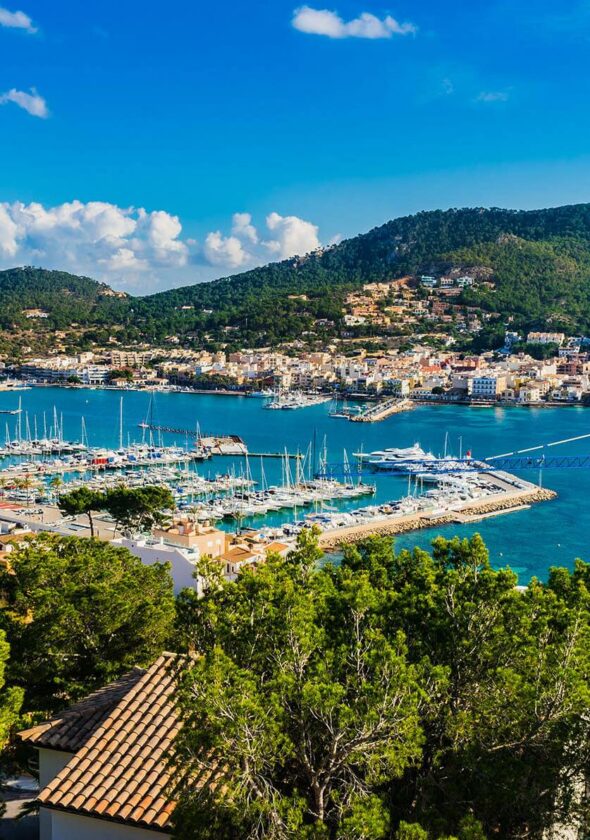 Côte Litttorale de Calvia
Côte Litttorale de Calvia
Le littoral à couper le souffle de Calvia s'étend sur 50 km le long de la Méditerranée scintillante. Pour une plage tranquille hors des sentiers battus, explorez la crique isolée et accidentée de Cala Vinyes, avec son magnifique rivage sablonneux et ses eaux turquoises tranquilles. Dirigez-vous vers l'intérieur des terres pour faire de la randonnée et du vélo dans les montagnes, découvrez une villa romaine en ruine et visitez le magnifique village d'Andratx.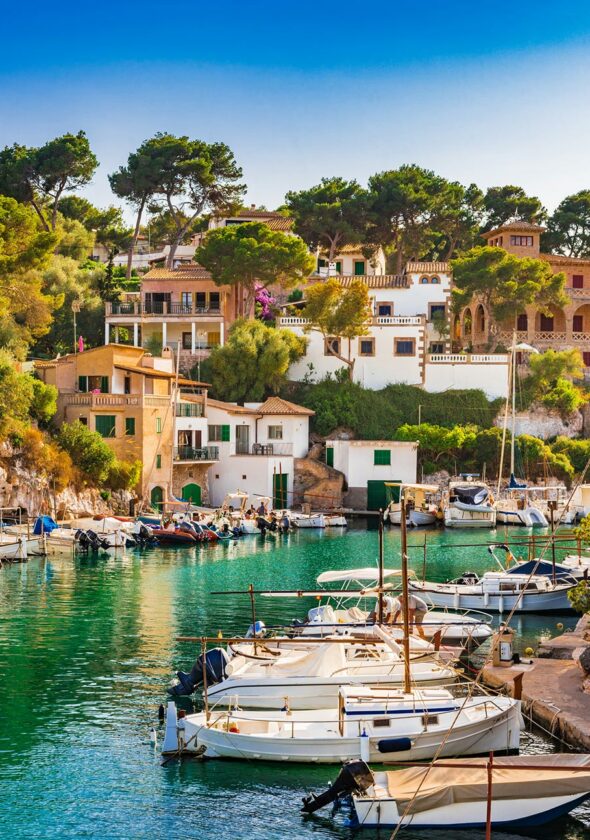 Cala Figuera
Cala Figuera
Cala Figuera, avec son charmant village de pêcheurs et sa baie en forme de Y, est connue pour sa beauté et sa faune diversifiée, Avec 70 espèces d'oiseaux exotiques se nourrissant de figuiers indigènes et d'autres flores odorantes, cette réserve naturelle qui s'étend sur plus de 3 km2 est le paradis des randonneurs qui acceptent de partager les sentiers avec les chèvres et lapins sauvages.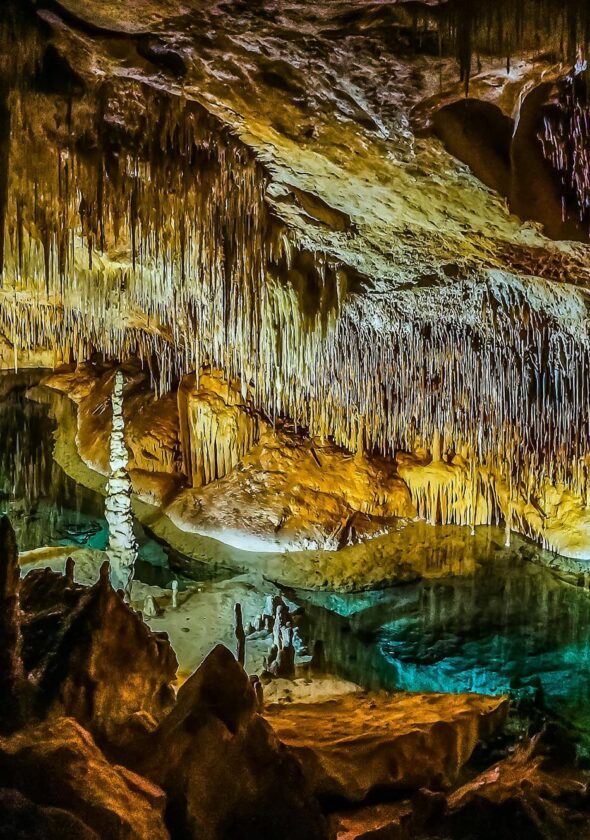 Grottes du Drach
Grottes du Drach
Traversez l'un des plus grands lacs souterrains du monde dans le monde énigmatique des grottes du Drach. Les quatre grottes interconnectées - la grotte noire, la grotte blanche, la grotte de Luis Salvador et la grotte des Français - situées à 25 mètres de profondeur, s'étendent sur près de 5 km de long. L'eau passe du turquoise au bleu profond, reflétant les superbes stalactites.
Lové entre deux superbes plages, à proximité du magnifique parc naturel de Mondrago, Ikos Porto Petro offre un décor idyllique entre expériences luxueuses en bord de mer, hébergement élégant et vues imprenables sur la Méditerranée. Des restaurants gastronomiques, cinq piscines, un luxueux spa, des courts de tennis, du paddle, tous sont là pour vous aider à profiter du sublime paysage vierge de Majorque.