A combination of spacious rooms and suites, the beautifully appointed accommodation at Ikos Oceania combines elegant style with breathtaking vistas. Set against panoramic views of Halkidiki's serene greens and the azure hues of the Aegean, they come with a private terrace, balcony or lush garden.
Deluxe Collection Suites at
Ikos OCEANIA
Diese Deluxe Suite ist ein ruhiger Zufluchtsort für die ganze Familie und bietet den Platz und die Ruhe, die Sie brauchen, um in diesem Urlaub wirklich zu entspannen. Genießen Sie auf Ihrem elegant eingerichteten Balkon oder Ihrer Terrasse die faszinierende Aussicht auf das Meer und ein erfrischendes Getränk.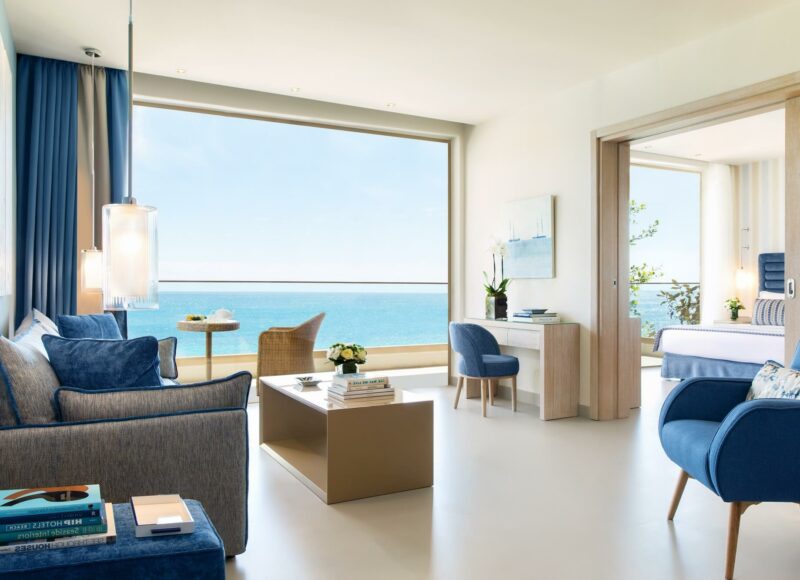 Die exklusiven Suiten der Deluxe Collection bieten ein gehobenes Ikos Erlebnis für alle, die das gewisse Etwas suchen. Inkludiert sind eine überragende Aussicht, eine verbesserte Ausstattung und eine Flasche eisgekühlter Taittinger Champagner zum Genießen.
Freuen Sie sich zudem auf kostenlose Spa Behandlungen, den Deluxe-Concierge Service, exklusiven Zugang zu den Bereichen der Deluxe Collection und ein besonderes Abendessen am Strand – alles in Ihrem Aufenthalt inbegriffen.